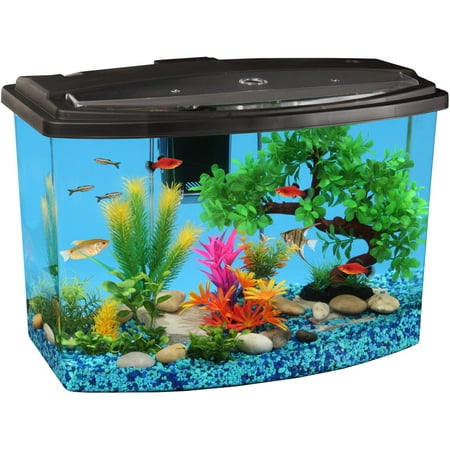 Hawkeye 7 Gallon Aquarium Kit comes complete with everything you need to set up a successful aquarium. Energy-efficient LED lighting with seven selectable colors that will brightly illuminate your fish with dazzling colors you can choose depending on time of day or night. Made of impact-resistant plastic with seamless construction, providing unparalleled panoramic viewing. Includes highly-efficient power filter with 45 gallons per hour flow rate along with premium filter cartridge containing research grade resin and carbon blend. Includes watercare conditioner that instantly makes tap water safe , enabling immediate and safe addition of fish. Ideal for beginners, this aquarium kit is designed for easy set up and easy maintenance. How to Set-up Your Aquarium Guide and fish food included. Gravel and decorations are not included. Dimensions: 18.25 L x 12.38 W x 13.10 H inches.
Ideal for tropical fish
LED lighting with 7 selectable colors
Internal power filter 45gph flow rate
Impact-resistant plastic construction
reviews
We love this tank! Easy setup and maintance . Crystal clear.
I started with a 3 gallon tank that was glass – it's heavy without the water. This is just perfect for work. It's not too small or too big and I can enjoy my fish. I wish I could upload a video, the colors are absolutely magnificant.
It is the perfect size for out small house. We like the plastic better than the old glass aquariums. It's perfect for 4 to 6 fish.
This product is so beautiful my fish have plenty of room. I didn't know it was so big but that's a good thing. I recommend the Hawkeye 7 to everyone.
I ordered this fish tank for my special education classroom, but it arrived with a huge crack in the front when I picked it up from the store. The packaging seemed sufficient, unless it had been dropped somewhere along the way… I had to return the tank, and now that I am purchasing another one less than a week later, the price went up. I'm not happy at all, but I feel that this tank is still well worth it if I can get one that isn't damaged. It's a really nice shape and size for a few small fish and some decor. The lights and filter are a huge plus! I know my students will enjoy this, and it is an approved tank at my school since it is plastic and not glass.