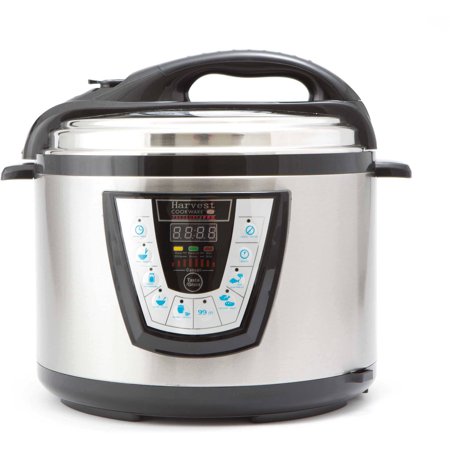 Update your kitchen with this Harvest Cookware Pressure Pro Ten-Quart Pressure Cooker, Black edition. It will cook foods up to ten times faster than traditional methods. This digital pressure cooker locks in moisture with a stainless-steel lid and can be used for canning. The one-touch controls make operation eas. It also includes a measuring cup, spoon, cord, manual and recipe book.
Harvest Cookware Pressure Pro 10-Quart Pressure Cooker, Black:
10-quart capacity pressure pro cooker
One-touch operation
Locks in moisture
Stainless steel lid
Ideal for canning
Includes measuring cup, spoon, cord, manual and recipe book
reviews
Been very satisfied with this pressure cooker. Lowest psi setting is 10 so I did do some pressure canning pints of peaches, jams, carmelized onions, and beef and chicken broth. Also great to cook large meals. For it's size it heats up quickly and does a good job. Only downside is the pressure valve is a little loose and you have to put it between seal and vent to release the pressure.
I love this product! Cooks everything to perfection! It's a total necessity in our household
I bought the 10 quarter a year ago and absolutely love it.. Stews, soups, pulled pork, pulled chicken, cheese cake.. Everything a crock pot can do but better in minutes!
I have this 6 months now, and we love it. Saves time, it's simple to use and most importantly the food comes out delish! Can't thank my sister enough for this marvelous gift!
Easy to use and dishes done in no time. Great quality and an absolute must have for all those who are looking for a great pressure cooker
I purchased my pressure cooker last year and I can't rave enough about how much easier and versatile my cooking has become . Every dish is cooked to perfection, in record time with no fuss. Delivers the perfect meal each time and it's super easy to use .
Bought this 8 months ago. Works good on stews and roast beef served rare. But the mechanics of it are very fragile. The transfers on the pressure weight have come off, the bowl will not come clean and after a small accident the rim of the main unit has broken off. Not too happy really on the quality of the build.