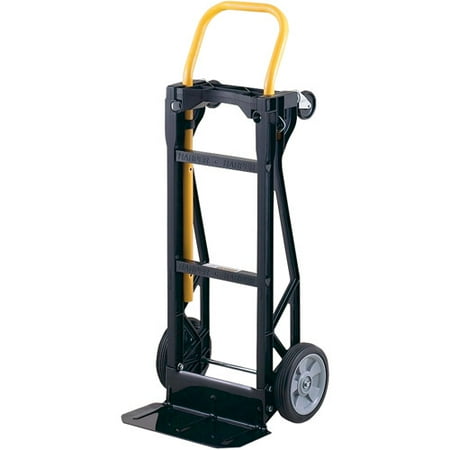 The Harper Hand Truck and Cart's exclusive I-Beam steel-tough nylon truss is 30 percent lighter than steel but designed to be as strong as steel or aluminum hand trucks, giving it ease of movement without sacrificing strength. Built-in stair glides allow for easy moving of your cargo up or down both stairs and curbs. The 400 lb nylon dolly hand truck features 8″ rubber tread wheels and 3″ swivel casters to allow for easier maneuverability even in tight spaces such as hallways. The frame, which is designed to resist chemicals, corrosion and rust, ensures a long product life, no matter what you're hauling or in what weather conditions. The truck easily converts from a two-wheel dolly to a four-wheel cart for different situations. The Harper Hand Truck and Cart can hold up to 300 lbs when it's on two wheels and 400 lbs when it's made fully vertical.
Harper Trucks 400lb Nylon Dolly and Cart:
400lb hand lift truck
I-Beam steel-tough nylon truss is 30 percent lighter than steel
Designed to be as strong as steel hand trucks
Built-in stair glides for easy moving up or down stairs and curbs
3-position handle adjusts up to 60″ for easy 2-wheeling the tallest loads
8″ rubber tread wheels and 3″ swivel casters
Easily converts from 2-wheel dolly into 4-wheel cart
300-lb horizontal capacity and 400-lb vertical capacity
reviews
it is OK for light work, but it is way to small & to lite for any heavy work.
This cart was manufactured of sturdy parts everything fits. This reminds me of the days when we made quality merchandise. Harper is made in the US and it shows. The short instruction form is easy to understand. Harper has my business I just wish it were like this with everything else. Great product
My son loved this! Easy to assemble from the bix!
I am an artist and do many Art Shows in the Midwest throughout the year with my business. I love this dolly because it allows me to move my art either upright or change the pins and move art on a dolly bed. I have had two other Harper dollies (same style) for the past 8+ years and they have just worn out. I did not want to try another brand because I wore these out for a reason (I did not want to lose them). But it was time and thankfully Harper was still making the same dolly. I bought two of them to replace my two others. They are so nice and move so smoothly and are quite sturdy. They can carry quite a lot of weight as I can attest to myself. Assembly was very minimal and they are terrific. I hope to get another 8+ years of performance from them. Really great product for me. Please keep stocking these Harper Dollies, Walmart!!!!
I have had several people ask where I got my cart they wanted one too. I used it to move my whole house to a new location. Very sturdy and easy to move around.
Very good for the moving I had to do. Would highly recommend this item. And it was at a good price. thanks
My daughter loved it. It was a gift. Fairly lightweight, but will service the purpose for two jobs. She likes the 4 wheel instead of getting two pieces.
it fell apart on the day I got it. the carter pins are no good and I am NOT a satisified customer
Harper Trucks 700 lb Steel Dual Purpose 2-Wheel Dolly and 4-Wheel Cart with 10" Flat-Free Solid Rubber Wheels: Height: 48"Telescoping handle adjusts up to 62" for bulky loadsFolding hand truck with fl...