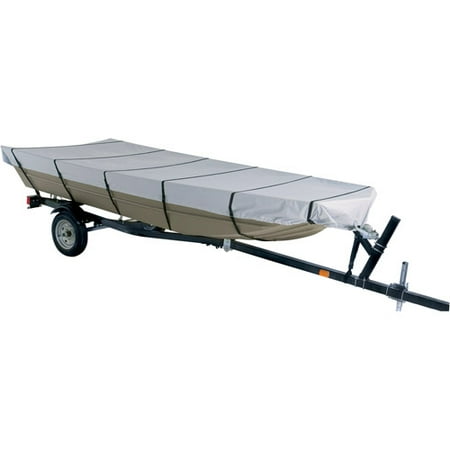 Help protect your boat from the elements when not in use with this Harbor Master 300-Denier Polyester Jon Boat Cover, Gray. It's made of a heavy-duty water- and mildew-resistant fabric and features reinforced areas located at the bow and stern for added strength. This Harbor Master boat cover also has a sewn-in shock cord on the hemline that lets you achieve a semi-custom fit. The package comes with a rope for securing the unit to a trailer while in storage or during transport.
Harbor Master 300-Denier Polyester Jon Boat Cover, Gray:
100 percent polyester
Fabric reinforcements at bow and stern and bow strap for easy installation
Trailering straps for quick and easy tie-down
Durable, sewn-in shock cord for snug fit
All-purpose storage bag included
reviews
Very nice fit I really like the straps go underneath boat clip fasten together will buy again without a second guess
Received my cover yesterday, put it on today. Cannot beat it for the price. Quality seems good, secures very well to boat. Rather than spend 300 plus dollars for a custom cover I will keep buying these covers when needed. One thing I did add was bows. Used plastic baseboard trim cut to boat width plus enough extra to bow as much as I wanted. Just keeps the water from laying on cover.
This cover fits my 13 foot john boat perfectly. It is designed very well, and was easy to put on the boat. I highly recommend it. It was only $40 in the store, ten dollars less than on the internet site.
This is a well made boat cover. You can customize the straps that go underneath the boat so that you don't have excess straps hanging around looking messy. The cover also has a elastic band that runs around the edge, so that the cover grips the boat. If, for some reason, I need another boat cover, this is the one I will buy. I have seen more expensive covers that are not near as well made.
We had trouble finding a cover for our little 12′ motorboat, especially at a good price. Although our boat is a v-bow, not a john boat, this cover fits well, is well-made and really works for us…all at a great price.
Been using tarps over my Basshuond year after year have to buy anther tarp to replace worn tarp each year. And this cover is perfect and way economical to OEM , I going carefully wash it in the washing machine and low dry when needed. Should last me for years Thank You!
I was very happy with the cover for the 1st year, great deal for the price and it worked great keeping the rain and leaves out of my jon boat. But around a year after I owned it, it began to disintegrate. And I literally mean disintegrate, starting with the front cloth part under the cover and then the straps which are turning into dust. And now the cover itself is starting to tear very easily. It has a 3 year warranty so well see how that goes when I call their customer service.