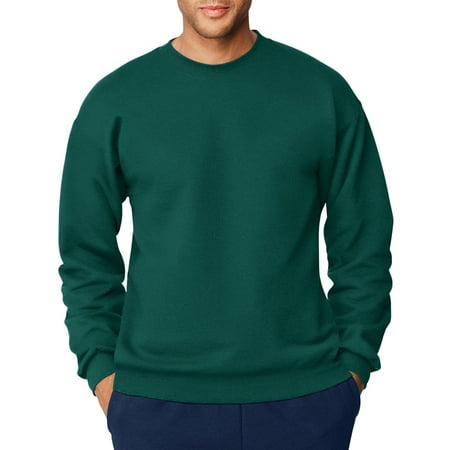 The name says it all! Heavyweight and durable fleece made with 90% cotton/10% polyester. Hanes Men's Ultimate Cotton Heavy Weight Fleece Sweat Shirt is our heaviest and warmest fleece making it ideal for keeping out the cold. Patented low pill, high-stitch density fabric with 100% cotton face. Stretch ribbed cuffs and relaxed hem.
Hanes Men's Ultimate Cotton Heavyweight Fleece Sweatshirt
Heavyweight and durable fleece made with 90% cotton/10% polyester
Made with 9.7-oz. fleece – our heaviest and warmest fleece
Crew neck pullover
Patented low pill, high-stitch density fabric
Cover-seamed armholes and waistband
Cotton, polyester, spandex cuffs and relaxed waistband for ultimate comfort
Double-needle cotton, polyester, spandex cover-seamed neck
Manufacturer style: F260
Machine wash cold
reviews
Great wear for the fall and prices were good. Delivery was less than a week from order. Order was correct and product correct. No returns.
I was shopping for brown sweat shirts and found them at Hanes.com. The price was good and free shipping at Xmas 2016 so I bought 4 of them.
It seems all Hanes item sizes are bigger than other brands. I ordered sweatpants, tees. I wear large but these seem like one size bigger. Had to return and and ordered again. No complaints about shipping or quality.
I've bought several of these, some zip-front, too. I LOVE the high cotton fiber content – something hard to find nowadays and, if you can find it, the sweatshirt is so unaffordable. They are, in my opinion, not the heaviest weight I've had, but they are certainly are NOT flimsy, thin things… they have a certain amount of bulk or beefiness. I think they run a bit large, but not too much – I don't think enough to order a size down. Besides, we don't like snug sweatshirts. I didn't notice any shrinkage after washing+drying (cold wash+rinse, medium/perma-press heat dry) Perfect for what we wanted, and reasonably priced! Very happy with these ultimate cotton sweatshirts.
I bought this sweatshirt in white to tye dye. It is super thick and warm and took the dye like nothing I have done before
I've been buying these and wearing them for years. Good fit, comfort and value. I do tend to wear them out in the collars and cuffs but I keep coming back.
Hard to find 90% cotton sweatshirts. This one is great. Soft, comfortable, sewn well. Bought it large expecting it to shrink, but it doesn't shrink hardly at all.
love the quality of these sweat shirts, good weight, husband loves them!!
Had to return because the large was way too large, esp the sleeve length! Returned for medium so we'll see, but frustrating because I'm a perfect large in the long sleeve bulky tees. It would be nice if sizing was consistent from product to product.