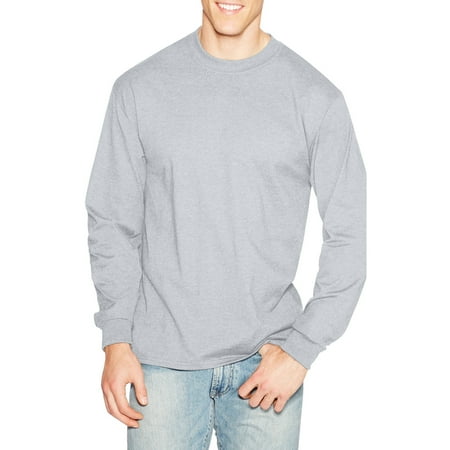 Expand your wardrobe with the Hanes Big Men's Long Sleeve T-shirt. Made from cotton, it is not only soft but durable. It features long sleeves for cool evening or protection from the sun. This big men's T-shirt is available in assorted colors, including ash, orange, deep navy and purple.
Hanes Big Men's Beefy Long Sleeve T-shirt 
:
100% cotton
Crew neck
Long sleeves
Hanes beefy T long-sleeve T-shirt is machine washable
Available in 2XL and 3XL
Available in ash, black, charcoal heather, deep forest, deep navy, deep red, deep royal, denim blue, gold, light blue, light steel, lime, maroon, navy, orange, pale pink, purple, sand, smoke gray, stonewashed green, white, yellow
Directions:
Fabric Care Instructions: Regular Wash
reviews
Bought shirts 6 months ago they have not shrunk or stretched out of shape.
Makes me feel good all under and outer wearing it as an only shirt
love them ,holds up very well. Good quality. Comfy
Must have at least a dozen or more. I'm a retired gardener constantly weeding. The long sleeves add protection and the shirt overall is just the right weight for those cool mornings.
My fiance lives the beefy tees, but only problem is, for the long sleeve, we need to the XL Tall and I have a hard time finding them, even online!
I bought several of these shirts several years ago. I have come back to buy many more. They are even better now. I am renovating a house with a lot of heavy, tight quarters work where I need to protect the skin of my arms and back but also keep me as cool as possible. It is hot and there is lots of dust. They are the perfect answer for me. The tails are longer now keeping them tucked in and maintaining the protection even better than before. Price is incredible. Oh, they fit great and look awesome too. Color selection is amazing.
My husband really likes these.They're perfect for layering or just for a cool day on a bike ride on a Vermont morning
I ordered these because I could not find long sleeved t-shirts in the stores. What a pleasant surprise when they arrived. These t-shirts are the same quality as much more expensive t-shirts in the stores. I definitely recommend them.
Bought these for my 93 year old father. He is doing physical therapy. They fit great, are soft and lightweight. He has asked me to order more.
Honestly "beefy", great color, correct size, seems well made which is consistent with my previous experience with Hanes products, an excellent product at an amazingly low price
I bought 4 long sleeve Beefy-T's and returned all of them. The online catalog showed that all of the shirts were 100% cotton. I specified XL so that they would shrink to fit. Instead, I received shirts with a high percentage of polyester so they wouldn't shrink. All of the shirts were too big. I returned them and had to pay for shipping, too. Never again, Hanes.