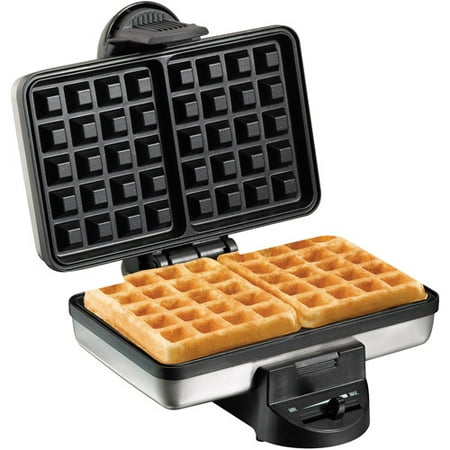 Start the day in a delicious way with the Hamilton Beach Waffle Maker. It consists of grids that make for easy making and removal. It also has power on and preheat lights to indicate when to add the batter. A shade selector in this stainless steel waffle maker lets you choose between light or brown and crispy. This compact waffle maker comes with an upright storage feature that allows it to fit well in your kitchen cabinet. Take a few minutes to enjoy a meal and make it special with delicious waffles. Crunchy on the outside and soft on the inside, served with a little bit of melted butter and maple syrup, it's a wonderful way to start the day. Waffle recipes go from basic to gourmet. Try recipes for pumpkin, berry or chocolate waffles. Or, jazz them up by topping with whip cream, fresh fruit, apple butter and more.
Hamilton Beach Two-Square Belgian Style Waffle Maker:
Belgian-style nonstick grids
Non stick waffle maker features stainless steel finish
Power and preheat lights indicate when grid is ready for batter
Compact, upright storage
Shade selector allows you to choose light or brown and crispy waffles
Limited 1 year warranty
8.25″L x 7.75″W x 4.50″D
Model# 26009
Warnings
:
Warning Text: For household use only.
reviews
Works well just adjust temp setting on the lower side and don't over cook. Great for 2 people.
Works perfect , just what I was looking for , and fair price.
For the price this Belgian waffle maker does the job…no frills or trills! It does not let you know when the waffle is done, however. You do have to watch it.
It works great and it's the perfect size for me. I give it four stars instead of five because the plastic slide that adjusts the temp. is really quite sloppy and cheap. But it seems to work so if you need a small waffle maker I think this is a good choice.
This product was great, it makes fluffy waffles. They don't take much time to cook and depending on how you like them you can change the setting on the maker to get either lighter or darker waffles. Delish is what they were. I brought this for a friend who happen to make me breakfast with it, now I'm about to get me one of my own.
We purchased this as a gift for my sister-in-law and she just raves about it. The review is actually from her as I have never made waffles myself, lol. She said even the kids (teens) in her house can use and clean it. They also said it would be even better as a 4 waffle but her figure is thankful that it is not. Her and the kids would definitely recommend this for everyone.
This waffle maker met all of my expectations and exceeded them. For the low price, I was wondering how well it would work, but it works beautifully! The waffles come out perfect every time! Then for counter storage it stands up straight and can be backed into a neat corner or easily placed in a cabinet. Great Value! I have a family of six and I can make six (very nice sized waffles) in about 10 minutes!! Can't beat that!
Would not recommend to friends. You pay for what you get with this price. The handle is hot and not safe to use.