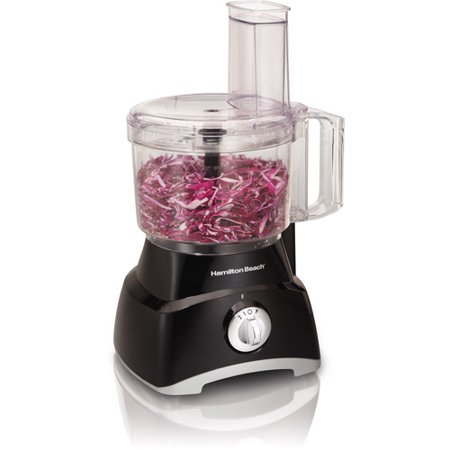 Make meal preparation a breeze with the Hamilton Beach Top Mount Food Processor. This kitchen essential makes chopping vegetables, grinding nuts, mixing ingredients and pureeing your favorite foods almost effortless. The Hamilton Beach food processor has an impressive 450 watts of power, so you can chop, shred, slice and dice in seconds. It features two speeds and pulse options with an eight-cup processing capacity, making it easy to prepare table-ready chopped salads and coleslaws. Its wide feed chute can fit an entire block of cheese, reducing prep time substantially. It comes with a stainless steel reversible slicing and shredding disc and a stainless steel S-blade for easy chopping. The electric food processor is designed for compact storage. It features in-bowl storage, so all components can stack neatly and conveniently inside the device. Treat yourself to the ultimate processing powerhouse with this Hamilton Beach food processor.
Treat yourself to the ultimate processing powerhouse with this Hamilton Beach food processor.
Hamilton Beach Top Mount Food Processor 70740:
8-cup processing capacity
Electric food processor comes with 2 speeds plus pulse
450-watts of power
In bowl storage
Unit fits easily into cabinet
Includes stainless steel S-blade and reversible slicing/shredding disc
Feed chute fits a whole block of cheese
Convenient and easy cord storage
Dishwasher safe bowl, lid and blades
1-year warranty
Model# 70740
Safe for counter top use
Sleek, matte black base and brushed chrome knob
reviews
I recommend this product for small jobs. It is a bit loud. Dose a good job for a inexpensive food processor. I do not recommend it if it is something you would use every day. I do like the finger holes that allow the user to easily place and remove the slicer/shredder blade.
Love my food processor, not too big and performs to perfection. Perfect for vegetables and to grind chicken or beef as well.
I am totally in love with my new food processor! My old one worked just fine but it was a lot older and a lot smaller so, on a whim, I ordered this. It is fantastic! I can't believe how much faster it is than my old one and cleanup is a breeze. It even has little suction feet that keep it in place on my counter – not a necessity but certainly a nice added feature! I highly recommend it.
Replace my old food processor after having it for about 12 years. I didn't realize how dull it had become until I used this. Wow! It's great! I haven't used the chopper yet, just the grater, but it worked great.
I bought this for my daughter who has been wanting a food processor for sometime. She was very excited to try it out and reported to me that she loves it! Her 2 boys, ages 7 and 9 wanted to use it as well. They sliced, diced, shredded and chopped everything from apples to zucchini! This a power house machine.
Raw Vegetable puree is all I make with it and it works beautifully. Easy quick rinse cleanup.
It worked great for what I needed it to do. I needed to grind cookies for my dirt cake and 2lb of cookies only too about 20 seconds!!
Poor quality. Could not get the processor to run. Checked and rechecked connections. Returned to the store.