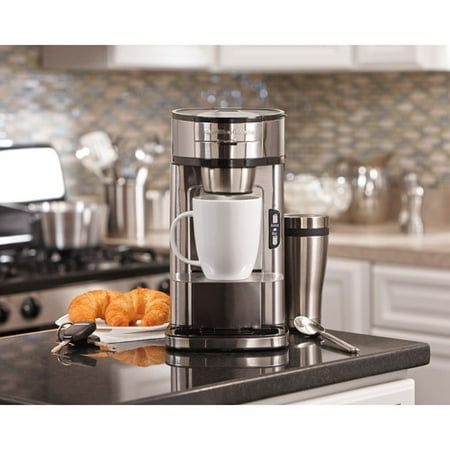 The Hamilton Beach The Scoop Coffeemaker goes where no coffeemaker has gone before, brewing hotter, faster and better-tasting coffee than most gourmet machines out there. Its benefits don't stop there — this single-cup coffee maker utilizes the simplicity of ground coffee and brews a customizable cup quickly: an eight-ounce cup in less than 90 seconds or a 14-ounce travel mug in under two-and-a-half minutes. Aside from its versatility in using inexpensive coffee grounds to brew a great-tasting cup, this Hamilton Beach coffeemaker is designed for ultra-simple preparation in three straight forward steps: scoop, place and brew! It features a steel mesh scoop for filtering freshly ground coffee and comes with a built-in, adjustable stand that flips to accommodate a standard-size cup or a taller travel mug. All in all, this coffeemaker offers affordability and no fuss with lots of options. There's no need for extra equipment or high-tech buttons.
Hamilton Beach The Scoop Single-Serve Coffeemaker, 49981, Stainless Steel:
Brews cup quickly: an 8 oz up in less than 90 seconds or a 14 oz cup in under 2.5 minutes
Ultra-simple preparation: scoop, place and brew
Steel mesh scoop
Built-in, adjustable stand
Fits a cup or travel mug
Wide drip tray on base
Settings for Regular and Bold coffee
Brews hotter for better taste
Durable stainless steel
Automatically shuts off after brewing
1-year limited warranty
Model# 49981
Directions:
Instructions: 1. Scoop. 2. Place. 3. Brew.
reviews
UPS delivered the coffee pot to my door. I was babysitting my three-year-old grandson. I put the box on the table in the kitchen and told my grandson to leave it alone. Of course he decided to play with the Box still with the coffee pot in it. I picked it up off the floor put it back on the table and said Caleb don't touch the Box leave the Box alone. The next thing I know I was walking into the kitchen he was sitting on the floor with the Box pushing the Box he pushed the box right in front of me I didn't quite get my foot over the Box and went flying into the kitchen right through the gate. Splat sprawled out flat on my stomach arms up in the air just like a cartoon. I just laid there silent my grandson I think he was in shock he was silent. After I caught my breath and rolled on my side I knew I had messed up my left knee and my right shoulder. I told my grandson Caleb get Nama's purse so I can use the phone. I called my daughter and told her what happened. Then I told Caleb get Mama the chair so I can get up. I managed to my feet and walked over to the couch and called my daughter. Chelsea I can't take care of him I can't even walk and something's wrong with my shoulder. My other daughter came and got Caleb and brought him to work with his mother. I sat there for two hours drinking my coffee thinking to myself I know something's wrong with my shoulder. Finally I called an ambulance to come and get me and take me to the hospital. Turns out nothing serious in my knee but I did have a fractured shoulder. This review is about Jet and my coffee pot I absolutely love the service and my coffee pot. I definitely will be ordering my coffee Folgers every month from jet. I hope this review was entertaining enough to win the contest. Thank you very much Donna and Caleb.
It was a gift for my husband who is always making only a single cup of coffee. He loves the ease of use, the adjustable height on the stand and fact it doesn't need a filter because it's built right it. The stainless steel makes for a quick and easy clean up. And it makes great coffee. This was an awesome gift and he says it was his favorite present.
My niece & I gave one of these to my Mom for Christmas in 2015. She has constantly had problems with it leaking and has to clean it constantly. She tried, at first, to make some hot chocolate with it and found that it got too gunked up and she had to clean it so that put a stop to using it for the chocolate pods. She has to run vinegar thru it at least once a week or it leaks water all over the place. She just cleaned it yesterday and today, when she made her coffee, water came out all over the place so she is going to have to purchase a new single coffee maker. I doubt she'll buy another Hamilton Beach but she did love it at first. It has been a constant problem after a few months of use. I wouldn't tell someone not to get one but I would let them know how much trouble my Mom has had with hers.
I love this one cup coffee maker! It's so easy to use and fast to clean. It was a nice surprise to find out that the scoop contains a built-in filter. They should advertise this because I assumed disposable filters were needed when I bought it. When it arrived, I did not read the instructions other than the note on the top about running plain water through the machine before making the first cup. Under the scoop there are two other pieces that detach for cleaning. Coffee grounds will build up after a couple days, causing coffee to leak out of the top of the machine, if these other pieces are not cleaned. It's very fast and easy though to simply rinse them off with a little soap and water. After reading reviews from other people about coffee splashing, I was not sure what to expect when the coffee maker arrived. Using a short, 14 ounce mug, the coffee slightly splashes a little bit onto the machine when it's flowing into the cup. The splashing is minor and easy to wipe clean. The stainless steel even looks clean when I occasionally forget to wipe off the few drops. I've had this coffee maker for about a month, I make coffee almost every day, and really hope it lasts many years.
Looks nice – seems well made but has an awful plastic taste! We tried everything to get the plastic flavor out (vinegar, baking powder, etc) with no luck. Coffee is UN-drinkable… unfortunately, we tossed the box so probably am stuck with it until we trash it.