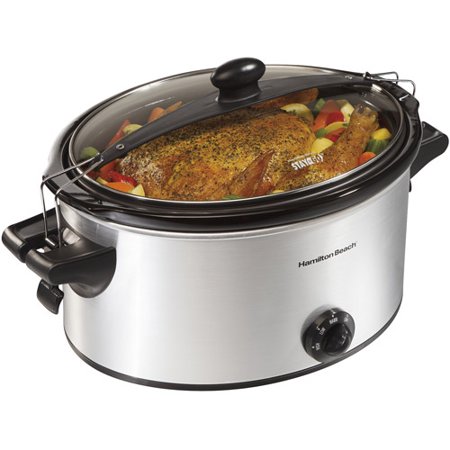 Designed with portability in mind, the Hamilton Beach Stay or Go 6-Quart Slow Cooker features a gasket lid with canister-style clips to prevent spills. Able to accommodate a chicken up to 6 lbs or a roast up to 4 lbs, this Hamilton Beach Slow Cooker has a sealable lid that locks for spill resistance. With its full-grip handles for easy carrying, the Stay or Go Slow Cooker can travel with you. The dishwasher-safe stoneware allows for quick and easy cleanup. The main cooking base of the Hamilton Beach Stay or Go 6-Quart Slow Cooker has high, low and keep warm settings.
Hamilton Beach Stay or Go 6-Quart Slow Cooker:
Six-quart capacity
Accommodates a 6-lb chicken or a 4-lb roast
Removable stoneware crock
Sealed lid locks for spill resistance
Dishwasher safe stoneware
High, low and keep warm settings
Limited one-year warranty
14.75″L x 8.75″W x 13.00″H
Model 33262
reviews
This product fits my family's need and looks great with our new color scheme.
Great crock pot. Very large. It's almost too big for my husband and myself. We have lunches quite a bit at the school where I teach, and it will be perfect for those.
This is a manual basic slow cooker with a latching lid. Latching lid is only for transporting the slow cooker during cooking the lid should not be latched. This is a replacement for the same model slow cooker it works great. My first one I cracked the crock pot insert. I would recommend this for anyone that does not need a programmable slow cooker.
Works great like my old one, but has the handy lock-handles for traveling to the potluck lunch!
I researched many slow cookers. As soon as I saw the picture of this one, I knew it would be perfect. The price is terrific and it does just was it says….cooks slow! Our first meal was a ham and it fell off the bone, delicious! That's all I wanted, nothing more–nothing less. Great addition to our kitchen too, the stainless look is quite sharp.
For Christmas and Thanksgiving, we cook at home and then take it all to my in laws. We have spilled juice from hams, and all kinds of other things in my van. This took the spills and messes out of the holidays. I cooked the ham over night, turned it off in the morning, took it to my in laws that afternoon, plugged it back up, warmed the food up, and wahla, perfect! Could you ask for an easier way? It slow cooks very nicely! Thank you for whoever made this!
Large size crockpot is wonderful to cook for a large family or take to a pot luck. With the side clips on the handles, the cover can be locked for easy transport to any event. The crockpot cooks very nicely with no sticking or burning on the sides.
We are always on the go! This slow cooker is perfect! Throw in some incredients and let it do the work while you do your work! It is the perfect size, not too small nor too big, just right for a family of 4 and guests! Cooks evenly and at good temperature for a slow cooker!