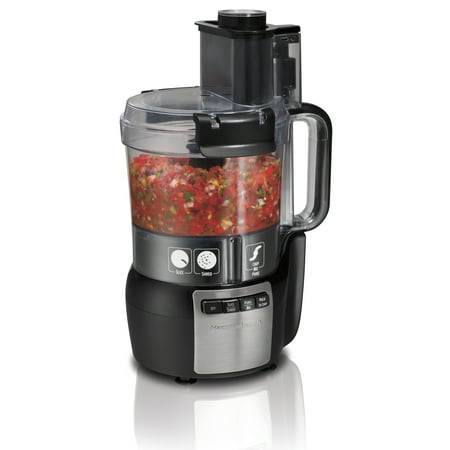 Whether you are cooking for two or prepping a large family meal, the Hamilton Beach stack and snap ten-cup food processor takes the guesswork out of food processing with a simple function guide that shows you which blade to use and which button to press. Designed to be uniquely simple, there's no twisting, turning or locking required when assembling the food processor. Chop, slice, shred, mix and puree just about anything with the powerful 450-watt motor. There is no max liquid fill line on this food processor, so you can process liquids without worrying about leaks because the bowl is sealed. The large-capacity bowl holds ten cups. This processor has a big mouth feed tube that saves you time by reducing the need for pre-cutting. There is in-bowl blade storage and cord storage and the dishwasher-safe parts make for easy cleaning and storage.
Hamilton Beach 10-Cup Stack and Snap Food Processor, Black:
10-cup capacity
No guesswork with simple function guide
Easy stack and snap assembly
Unique patent-pending design requires no difficult twisting and locking
Guide shows you which blade to use and which button to press
Big mouth feed tube reduces pre-cutting
Sealed bowl prevents leaks
Powerful 450-watt motor
Reversible slice/shred disk
Chopping S-blade
Dishwasher-safe blades, bowl and lid
Cord storage
Limited 1-year warranty
Model # 70721
reviews
I think my purchase of the Hamilton Beach food processor was a smart and logical idea. The food processor has some great features, I especially like the heaviness of the machine, it feels so well put together, along with the suctions cups which hold the machine in it's place on the kitchen counter top, the machine itself isn't oversized, it fit's on the counter perfectly, which is very important considering the limited amount of counter space with the other kitchen tools. The machine comes apart easily for empting foods from the mixing bowl, and makes for easy cleaning. I would happily suggest this machine to all my family and friends. The quality of this machine far exceeds my expectation, and the low cost made it simple to purchase the food processor.
While this basically got the job done of shredding carrots the first time I used it, a design flaw mentioned in one or more earlier reviews became apparent. There is a gap between the bottom of the feeding chute and the circular blade. This traps unprocessed food in large lumps. I ended up discarding quite a bit as they were too small to shred through the blade.
I've owned this processor for 3 weeks now, and I have used it every day and sometimes multiple times per day. I've made salsa, falafel, biscuits,and cookie dough. I have sliced, chopped and shredded everything in it and I am absolutely happy with it. because the bowl is sealed 10 cups is the capacity. I only reduced the quantity when mixing very thin soup, but that was still 8 cups. It does not leak….ever. One lady complained about food accumulating in the handle, but for the life of me I can't figure out how she could have done this. It is sealed. . there are vent holes in the spring channels, but any water from washing will escape. Anyway, I have had no issues. it is easy to assemble and easy to clean. I highly recommend it
The Hamilton Beach 10-Cup Stack and Snap Food Processor does process food. It Chops, Shreds and Slices. This is one instance however where I wish I'd spent more money on a better product. The chopping is definitely adequate but requires operator precision to get the right size of "chop". The Shredding works well for what makes it past the blade, but inevitably some ends up remaining above the blade in unfortunate sized chunks. The slicing works, but the slices are not always appetizing looking and there'a no way to adjust the thickness of the slices for different foods. The machine definitely does what it says it will do for an exceptionally good price, but if you are looking for some elegantly prepared food, you are going to need some exceptional skill 🙂
I really bought,this to make Hummus but now I've also used it to make nut butters and salsa. The shredding blade slices or shreds cabbage, cheese, onions with no problem. Saved time not doing by and and save money because nutbutters like almond and cashew are expensive. The other thing is we are having or food without preservatives. Win win all the way. Highly recommended.
I had this food processor for approximately 1 year. It was only used about 5 times and the plastic safety switch component broke today. The last food processing I owned lasted twenty years, so I am extremely disappointed in the durability of this unit. This food processor was purchased from our local Walmart store.