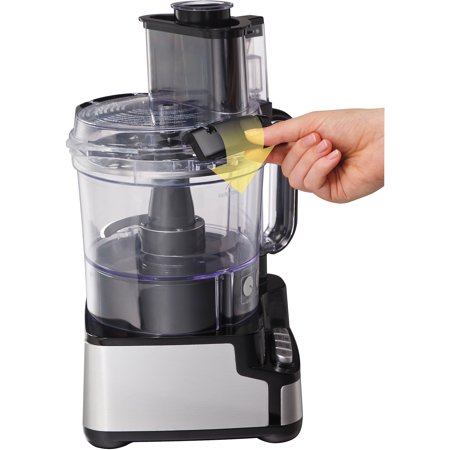 Whether you are cooking for two or prepping a large family meal, the Hamilton Beach Stack & Snap 12-Cup Food Processor takes the guesswork out of food processing. It has a simple function guide that shows you which blade to use and which button to press. Designed to be uniquely simple — no twisting, turning or locking is required when assembling the food processor. Chop, slice, shred, mix and puree just about anything with the powerful 450-watt motor. No max liquid fill line on this food processor, you can process liquids without worrying about leaks because the bowl is sealed. The large-capacity bowl holds 12 cups and has a pour spout that reduces messy drips. Ever pour the food out of a processor and the blade comes out too? Not here, the chopping blade locks in the bowl and stays put during pouring. This processor has a big mouth feed tube that saves you time by reducing pre-cutting.
Hamilton Beach Stack & Snap 12-Cup Food Processor, Black:
12-cup capacity food processor
Easy stack-and-snap assembly
Unique, patent-pending design requires no difficult twisting and locking
Simple function guide shows you which blade to use and which button press
Big mouth feed tube reduces pre-cutting
Sealed bowl with pour spout prevents leaks
Powerful 450W motor
Reversible slice/shred disk
Chopping S-blade locks into bowl and stays put during pouring
Dishwasher-safe blades, bowl and lid
Cord storage
1-year limited warranty
Model# 70725
reviews
It works great. The service of buying this item and sending it to my daughter-in-law were very easy. She loves it.
My wife has carpal tunnel syndrome so tasks such as shredding cheese and slicing vegetables can be problematic. A little research showed that this Hamilton Beach food processor was highly rated on multiple vendor sites. I was not prepared for the power of this appliance as it shredded a block of cheddar cheese within a handful of seconds. Absolutely love this product.
I had never experienced an electric food processor before this one. My neighbor has a HUGE garden and was saying how well his potatoes were coming along and asked me to look online for how to make shredded potatoes and freeze them so I did that for him. A few days later he called to BEG me to take some potatoes. So we decided we would take some off his hands and try that recipe I got him ourselves. I said it might be nice to have a food processor. So I went online and began reading reviews. This food processor seemed like it would fit the bill. And it seemed to be an average price, we didn't need a Cuisnart… We got the food processor and though we are both machinists there was a learning curve for us and we threw the first two batches of 3 pounds each in the ditch since they came out mush. (Good thing they were free! And good that the neighbor wanted them gone!) We finally figured it out and we did 12 batches of 3 pounds each shredded potatoes for our freezer!!!!! They turned out perfect!!!!! Beautiful!!!!!! Got to fry some up with a piece of ham the other evening and yes, they are far better then grocery store shredded potatoes! And well worth the expense of this, and avoided using a primitive non electric device for that many potatoes! I didn't know either what size to get being a novice with food processors, but this one was just exactly the right size to do 3 pounds of potatoes at a time as the recipe called for. WONDERFUL!
Nice and powerful. Only thing is, it's TALL so might want to plan for storing. i have to have my top off to store it.
I really like this food processor for the price. It has the ability to store all the pieces well, a cord keeper in the back and works well for our needs. We mostly shred cheese, make food purees and use it to chop veggies. I haven't used the slicing function yet but the chop and shred functions work well. I really like the wide and small mouth options for feeding the item in to the top so that you don't have to cut the pieces so small. Great standard appliance for the price.
It works well, cuts , slice and shreds. It is larger than what I wanted as I have very small counter space. Easy to put together. I would rate it as good or above one of the well known brands. Price is good, but if you want something more professional you will have to pay much more. If you want to do simple preparations then this is the on, Also, picked up at store, ordering and delivery, service at pickup, excellent.
This is a solidly build kitchen appliance with very sharp attachments that make cutting and chopping up vegetables and cheeses very easy. My son bought this for my wife for Mother's Day and is she ever glad. No more peeling and cutting up potatoes for her. The larger size pitcher makes it easier to make big portions and clean. Easy to take apart and clean as well. Great product.