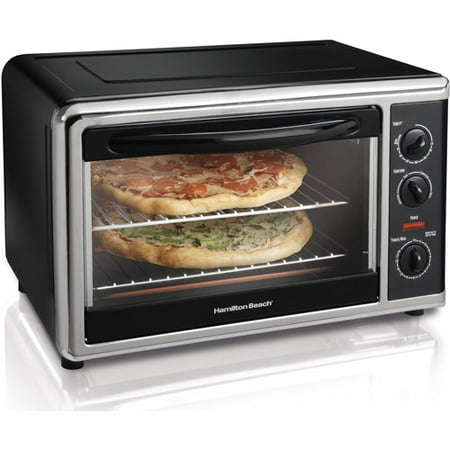 The Hamilton Beach Large Capacity Counter Top Oven, Chrome, boasts full-size performance in a compact, energy-efficient unit. It has a smaller form, but is large enough to help you be ready for any meal or party. Designed with practicality in mind, the Hamilton Beach counter top oven is portable and convenient. It's packed with versatile cooking options that range from baking cakes to crisping cookies. This energy-efficient oven broils salmon and roasts an entire 5 lb chicken, roast or pork. It even cook two 12″ pizzas at the same time. There's no need to spend extra time preparing separately for the pickier ones, either. The wide interior and adjustable racks provide double the space for multiple foods at once. The full-width crumb/drip tray slides out from the front, allowing easy access for cleaning. The Hamilton Beach counter top oven is a smart addition to any home.
Hamilton Beach Large Capacity Counter Top Oven:
The kitchen oven holds two 12″ pizzas
Hamilton Beach Large Capacity Counter Top Oven, Chrome has an extra-large capacity
Fits two 9″ x 13″ casseroles or 2 cake pans
Convection setting cooks faster than traditional oven
The Hamilton Beach oven has a bake and broil setting with 2-hour timer
Hamilton Beach counter top oven comes with ready tone and auto shut-off
Energy-efficient oven includes 2 cooking racks and 1 drip tray
1-year limited warranty
Dimensions: 20.75″W x 17″D x 12.5″H
Boasts full-size performance in a more compact design
Be ready for any meal or party
Energy-efficient
Portable and fits on your counter top
Versatile cooking options
Bakes cakes and cookies
Broils salmon and roasts an entire 5 lb chicken, roast or pork
Can cook multiple foods at the same time
Warnings:
California Proposition 65 Warning: WARNING: This product contains chemicals known to the State of California to cause cancer and/or birth defects or other reproductive harm
reviews
I bought this to replace a very similar Hamilton Beach counter top oven that I had regularly used for more than ten years, but the plug became defective. I use this to crisp and brown frozen foods like fried chicken, french fries, etc. It's wonderful for cooking frozen pizzas, and everything cooks much faster (with the convection) than in the large oven of my gas range. I've made simple casseroles in it like scalloped potatoes. It heats up fast, cooks fast and doesn't heat up the kitchen like using my large gas oven would. I haven't used the rotisserie function yet, but plan to rotisserie a chicken soon. This looks almost exactly like my older one, but seems to be about 1-1/2 inches wider, but still fits on my counter (I have it in a corner) This seemed to get the best reviews of all the various counter top ovens, including much more expensive styles and of course i had many years of experience with my old one. A wonderful bargain for the price and I recommend this to everyone, but just be aware that it is quite large.
This oven operates like my full size. I don't have to worry about heating up the entire house and excess gas/utilities bill. My entire meals fit inside the oven. The timer allow me to do other things. My food taste better than microwave foods which makes this oven exceptional.
I love it. Especially in the summer it doesn't heat up the house as much like my regular oven would. Which was the point to me buying it. That and stated it can fit a 9×13. UNFORTUNATELY them stating "it fits 9×13″…sure IF you can find a casserole dish that fits. Had it for 2 years now STILL can't find a dish (basically would need to be with out handles). Also claims it can cook 2 full sized pizzas…kind of bogus. 2 pizzas fit, sure. But cooking them properly and easily…not so much. Still, convenient to have. Scary how its not cool touch. Though I like it, it has not successfully met what it claims and my needs.
Tried all the features, convection bake rotisserie and broil. The size makes it very versatile. The only features I would find useful are an indicator when the oven reaches the set temperature and an interior light. So only rated it at 4. Very satisfied with overall performance.
I bought my oven a month ago and I'm very impressed with it's cooking abilities. Everyone should have one in their kitchen.
this is my second one, first one used for about 3 years, and gave it to a family member, and ordered a second one. love the convenience of a counter-top appliances, which accommodates 2 small pizzas, baked potatoes, chicken, steaks, casseroles, desserts…..all without having to turn on the large oven. heats quickly, and glass front allows view of contents. believe this is a must have appliance, due to saving electricity/gas, and how roomy the interior is to bake so many different meal dishes. top of appliance is good for keeping casserole dishes, pans
I used Hamilton Beach Vountertop oven more than 15 years it was a good oven have the time set up to 2 hrs long and can put 2 of 13 in pizza together. I brought this 2 oven for give to my friend & my son and price also very cheap.
Does NOT fit a normal 13 x 9 pan. With these ovens, I don't expect the temp on the dial to be accurate, but this one was WAY off. And it can vary as much as 100 degrees while cycling on and off. So you will never really be able to get an accurate temperature. I wasn't going to bother to write a review about it, but now, after having it 7 months, the glass door just exploded, with little cubes of glass all over my kitchen, for no apparent reason. It wasn't even that hot at the time, running under 400 degrees, and no one was near it.