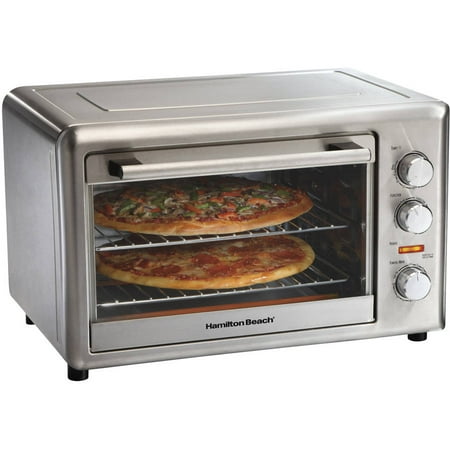 The Hamilton Beach Large Capacity Counter Top Oven is small enough to fit on a kitchen counter, but large enough to help prepare for any meal or party. It has a sleek, modern design that complements most spaces. The stainless steel oven boasts full-size oven performance in compact, energy-efficient form. Designed with both kitchen style and practicality in mind, it is portable and countertop convenient. It's packed with versatile cooking options that range from baking cakes to crisping cookies to broiling salmon to roasting an entire 5 lb. chicken, roast or pork. There's no need to spend extra time cooking separate meals for the pickier ones, either.The wide interior and adjustable cooking racks of this silver convection oven provide double the space for cooking multiple foods at once.

Hamilton Beach Large Capacity Counter Top Oven:
Durable stainless steel construction
Uses 49% less energy than a typical kitchen oven
Extra-large capacity accommodates two 12″ pizzas, two 9″x13″ casseroles, two cake pans, two sheets of cookies or a 5 lb. chicken
Easy-clean, nonstick oven interior
Includes two oven racks, large enamel-coated baking pan, small baking pan and broil rack
Broil rack also stacks directly on small baking pan for roasting meats
Includes rotisserie accessories: rotisserie lift and forks with rod (skewer)
Slide-out, full-width crumb/drip tray
Easy-to-read temperature dial on front control panel can be adjusted to desired or pre-set temperatures
Easy-to-read function dial on front control panel can be adjusted to four pre-programmed settings: bake, convection, broil, rotisserie
Stainless steel oven has a power indicator light
2-hour cooking timer with audible tone and automatic shutoff
1-year warranty
Model# 31103
Warnings:
Warning Text: For household use only.
reviews
It looks great in my kitchen! It works just like my big oven. I can burn biscuits just as well, lol!
I ordered this oven for two reasons. My first one had a digital pad, and the pad died after just a year or so of service (just out of warranty). I decided I didn't want any more digital pads. I also wanted an oven that would fit a 13 x 9 cake pan. This oven takes care of both of those issues, and I am pleased with its baking.
I've been wanting to get one since the igniter switch went on my oven but didn't really want to shell out $100. Then one day I was in WM and they had one box in the clearance section. I scanned it and it came up regular price $89.99. BUT the online price was $50. So I grabbed a manger told him of the issue. However when he scanned it, it said their wasn't any in stock. So he says, I'll tell ya what since you're so polite and patient and you seem like you REALLY want it, I'll go up and tell CS to override the price to the $50 online price. (All of my local WM's have stopped price matching like 2yrs ago). Anyways, so far I've made pizza, cookies, breakfast casseroles, pre baked baby back ribs all on the convection setting. Last weekend I made a rotisserie chicken. This thing is AWESOME!! Doesn't heat my kitchen up like the regular oven did. And the convection cooks stuff a lot faster. The only 2 drawbacks are the whole outside of the machine gets extremely hot when cooking, and the door isn't on any kind of latch (like a regular oven door) so you have to hold it by the outside bar til it rests on the table or counter. Not big enough drawbacks to take away any stars.
I love this oven. It does everything promised, bakes everything from pizzas to cookies. My husband rotisseried a chicken last night. We bought it as a "temporary" alternative for my broken oven and it's still going strong after a year.
This is the second oven like this I've had. The first one really worked well, it turns off when the time is up(which is really important for me, as I tend to get sidetracked). It cooks well, even though the heat registered on a thermometer is not what the oven is set for. But, despite the fact that the heating rods went out in what seemed like a short time, I bought another just like it, because I was so pleased with it's performance. I'm hoping it was just a fluke that the heat rods went out, but this time I bought a longer warranty.
I would have really liked this product except that I can not cook above 350 degrees regardless of what I set it on. I checked this with 2 different thermometers to be sure after finding my food was not cooked enough. I like the knobs, style, settings etc. I actually saw another review stating the same about the temperature but I chose to ignore it and thought it was a fluke, but sadly it is not. All features worked and quietly but unless you never will cook over 350, this product is not for you. I will say it does take a full 10 minutes to get to the 350 – there is no fast heat up like a regular toaster oven. I spied a Cuisinart that I will most likely get now.