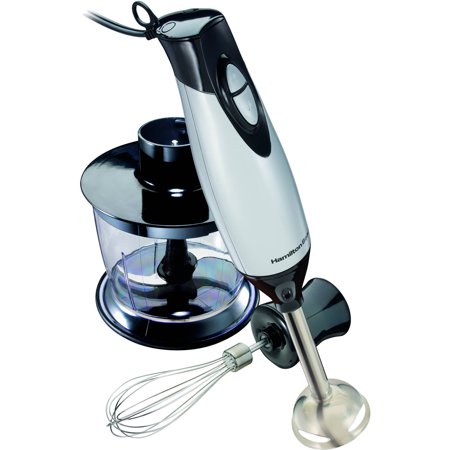 The Hamilton Beach Hand Blender with Chopping Bowl is an ideal appliance when you need to blend, chop, mix or whip. It lets you perform all of these functions right in the cooking pan, bowl or glass. You don't need to use separate mixing bowls. The stainless steel whisk and blending wand make this hand blender truly versatile. This blender also features a chopping bowl. This Hamilton Beach 2-speed hand blender is also dishwasher safe for easy clean up. With an easy-grip design, it ensures nonslip speed control. The 5′ long attached power cord gives you significant freedom of movement while working in the kitchen. In addition, with its powerful 225 watt motor, this Hamilton Beach blender is a fast-working and efficient. Hamilton Beach Hand Blender "with""Chopping Bowl:
Extremely convenient choice when you need to blend, chop, mix or whip
Can work right in the cooking pan, bowl or glass, so you don't need a separate mixing bowls
Stainless steel whisk on the hand blender
Blender features a blending wand, chopping bowl and whisk
2-speed blender
Dishwasher-safe attachments
Easy-grip designs
Nonslip speed control
5′ long attached power cord
Powerful 225 watt motor
reviews
Excellent value for the money. The chopper works great. This blender is a keeper
The products were very efficient love the interchangeable utensils
So far loving this mixer. It got a little warm on one project so I switched to my regular hand mixer. But for small quick things it does the trick
Makes mixing and whipping so easy. Whipped up some jello pudding with the wisk tool. Made easy work of it and didn't make a huge mess. I use the hand mixer every morning to mix up my bullet proof coffee. So much better than dragging out the big blender. Great convenient gadget. Highly recommend.
I bought this to replace my plastic blender that broke. It works great. Have used it to make frozen smoothies and to puree hot soup. Have also used the whipper attachment for eggs and the chopper for onions (super fast, no more tears). Easy to change attachments and easy to clean. Couldn't be happier.
All features work very well. Powerful and fast. The instructions need to be improved. There are no assembly instructions. There is a vital part not shown or mentioned in the instructions. This part goes between the motor housing and the whisk. It is also needed with the blending attachment and with the chopper attachment. It must first be turned and then it must snap into place, or it will fall off when using the whisk or the blender. This is not in the instructions. Also the whisk attachment must snap into place, otherwise it will spin out of control and fall off while it is being used. Once these issues are realized, and everything is fastened correctly, the machine works very well and does all it is supposed to.
I make smoothies everyday with plenty of frozen fruit and ice. Chops/blends very well.
Bought this thinking it would be pretty useful. NOT. The motor made so much noise, I thought it would annoy apartment complex neighbors. The motor literally sounds like a drill about to die.
Includes blending wand, whisk and chopping bowlOne tool to blend, mix, whip, puree, and chopEasy to use and easy to cleanDishwasher safe attachments225-watt motorImported
2 Speed Hand Blender with Food Chopper attachement Color: Black.