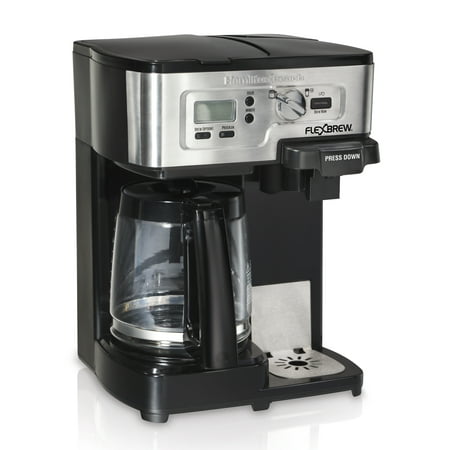 The 2-Way FlexBrew Single-Serve coffee maker brews a whole carafe or a single-serve portion. Brew with a K-Cup pack or ground coffee. The adjustable cup rest fits a coffee cup or travel mug and the programmable timer offers a 2 hour automatic shutoff.
Versatile Brewing
The 2-Way FlexBrew Coffeemaker maximizes your brewing flexibility and offers more brewing options than most coffeemakers. To start your day, you can use the "single-serve side" to brew into a standard-size cup or brew up to a 14 oz. travel mug. Whats more, you have the choice of brewing with a K-Cup pack or your favorite ground coffee. On mornings when you want to enjoy cup after cup, or when youre entertaining, the carafe side makes a full 12-cup pot. So much in so little space, the 2-Way FlexBrewCoffeemaker provides maximum flexibility for your coffee-drinking enjoyment.
All this brewing flexibility wont take over your whole countertop, either. At just 10.63 inches wide and (27 cm) and 10.24 inches (26 cm) deep, the 2-Way FlexBrewCoffeemaker accomplishes a lot of things in a minimum amount of space. And youll find that at 13.9 inches (35.3) height, its even a bit shorter than many full-size coffeemakers.
Easy To Use
The 2-Way FlexBrew Coffeemaker is designed to brew on one side at a time. To make your selection, simply turn the dial to the left or right. Each side has its own water reservoir, so filling is easy. All accessories for brewing a single cup with a K-Cup pack or ground coffee are included, and the multilevel cup rest adjusts to fit your standard cup or travel mug.
Whichever way you decide to brew, you can have a great-tasting cup of coffee whenever you need it. The single-serving side can brew an 8 oz. cup of coffee using a K-Cup pack in 2 minutes, and the carafe side is programmable up to 24 hours in advance with a two-hour auto shutoff and regular/bold brew strength settings.
Warranty Protection & Customer Care
Were confident in the durable construction and performance of the 2-Way FlexBrew Coffeemaker. For your peace of mind, the coffeemaker comes with a 1-year warranty and is packed with a Quick Start Guide and a comprehensive Use and Care Guide. Best of all, your questions are supported by a toll-free call center located in the U.S. If something goes wrong or you need help, call and talk directly with our operators to receive prompt, friendly support.
K-Cup pack is a registered trademark of Keurig, Inc.
Sometimes time is short, and sometimes not. Perfect coffee makers handle both. Thats Hamilton Beachs 2-Way FlexBrew Coffeemaker. These convenient 2-in-1 coffee maker brews two types of coffee at the same time. So whether you are rushing off to work, or are enjoying the Sunday paper, you can have the right amount of coffee.
Directions:
Instructions: 1. Place K-Cup pack or ground coffee in brewer. 2. Adjust cup rest to fit your cup or mug. 3. Brew and enjoy coffee made your way.
reviews
I bought this machine about a month ago and absolutely love it. It has everything I wanted. It's very simple to operate. I was pleasantly surprised to find a single filtered brew cup so you can use your ordinary coffee instead of a K-cup. Saves LOTS of money. Would recommend it to anyone.
I liked the product a lot ,I drink a lot of coffee,at least a pot a day ,and being able to brew just a cup at the end of the day and not having to brew a whole pot is great!
Wow! I just got to try my new Hamilton Beach 2 Way FlexBrew Coffee Maker. I am really impressed. With the FlexBrew, I can make a single cup with enclosed basket or use any keurig type cup or I can make a full pot.Talk about versatility!
Worked great right out of box. Programming was simple and easy to understand. We did have some difficulty with the single serve instructions.We do not use pods requiring some experimentation with filtering. In addition, since we live in a rural area with a septic system, we must use paper filters. The use of permanent filters allows coffee grounds to enter system when cleaned, which is a no-no. The water level indicators both exhibited steam which made seeing water level difficult when brewing multiple pots. All in all, this product worked well and is highly recommended by us.
An absolute joy to use. Because of the dual combination it is a great all around coffee maker to have. Being recently retired and my wife is still working, during the week I will use the single serve side and make a 12 – 14 oz cup for myself. But on the weekends, I have the option to use the 12 cup carafe. I cannot say enough good things about this item. Great quality, easy to use and easy to clean.
I love having the convenience of using a carafe or a single serving without having two difference appliances taking up room on the counter. Another added benefit is putting in fresh water for each cup and not having it sit in the machine for long periods of time.
We bought this coffee maker after we received a gift certificate. After about a month later maker started to leak water from the bottom. got in touch with hamilton beach they wanted us to cut the cord and send a picture of the maker with cord cut. no problem right…. Wrong after attempting many times around 6 of them to send them an e-mail. they keep replying they cannot read my emailed picture. Gave Up .. Couldn't return it as i threw out the box.. Biggest piece of Junk ever made!!