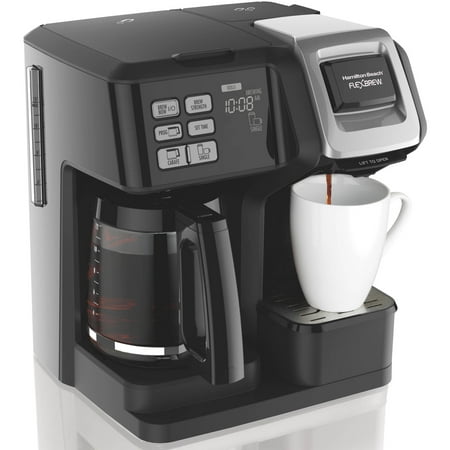 No two coffee drinkers are the same so when you make coffee at home, the flexibility to customize how and what you brew is key. From fresh grounds to K-Cups, the FlexBrew 2-Way Coffee Maker gives you the options to please fans of all types of coffees
2 easy-fill reservoirs and easy-view water windows
Single brewing side lets you brew into a cup or 8 tall travel mug
Carafe side with programmable timer and auto shutoff
Bold or regular brew strength options
Brew a full pot of coffee the way you always have
Easy-fill reservoir and water window
Programmable timer with 2 hour automatic shutoff
Automatic pause & serve
Brews up to 10 oz. with K-Cup* pack or 14 oz. with ground coffee
Includes single-serve pack holder and brew basket
Storage area inside cup rest for single-serve pack holder or brew basket
reviews
I really love this coffeemaker. Much improved over previous model. Single serve is our main use, haven't experienced any error messages like older model. Full pot does brew a little slow.
My husband and I have been using it for about a week now and we love it. During the week days we use the single serve side and on the weekends when we're home we make a whole pot. The single serve side is not as fast as a keurig. I like how you have to add water every time and there is no holding tank like on the keurig's. So you add the exact amount of water you need every time and it takes a couple of minutes for it to heat up. I'm glad we chose this over a keurig.
I bought this machine about a month ago and absolutely love it. It has everything I wanted. It's very simple to operate. I was pleasantly surprised to find a single filtered brew cup so you can use your ordinary coffee instead of a K-cup. Saves LOTS of money. Would recommend it to anyone.
I liked the product a lot ,I drink a lot of coffee,at least a pot a day ,and being able to brew just a cup at the end of the day and not having to brew a whole pot is great!
Wow! I just got to try my new Hamilton Beach 2 Way FlexBrew Coffee Maker. I am really impressed. With the FlexBrew, I can make a single cup with enclosed basket or use any keurig type cup or I can make a full pot.Talk about versatility!
Worked great right out of box. Programming was simple and easy to understand. We did have some difficulty with the single serve instructions.We do not use pods requiring some experimentation with filtering. In addition, since we live in a rural area with a septic system, we must use paper filters. The use of permanent filters allows coffee grounds to enter system when cleaned, which is a no-no. The water level indicators both exhibited steam which made seeing water level difficult when brewing multiple pots. All in all, this product worked well and is highly recommended by us.