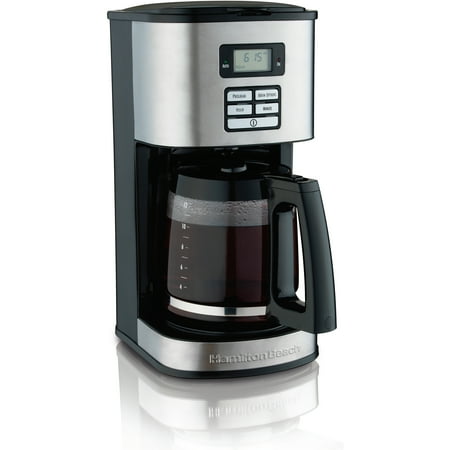 Help yourself to cafe-quality coffee every morning. Whether you're brewing coffee for two or making enough coffee for family and friends, the Hamilton Beach 12-Cup Programmable Coffee Maker is the perfect size and offers many features to fit your brewing needs including three brew strength options, a programmable timer and a two-hour automatic shutoff. This full-size coffeemaker looks great on the counter with a stainless steel design that fits right in with any kitchen. This coffeemaker has a pause and serve feature so you can pour a cup anytime during the brewing process. Removing the carafe automatically pauses the drip so you can get your first cup before the pot is fully brewed. Would you like to wake up to the aroma of fresh coffee every morning? Programming is very simple with the large buttons and display and can be done up to 24 hours in advance, which is great for anyone on the go. No hand washing is needed, both the carafe and filter basket are top-rack dishwasher safe.
Hamilton Beach 12-Cup Programmable Coffeemaker, Black:
12-cup capacity programmable coffeemaker
3 brew strength options: regular, bold and 1-4 cups
Easy-pour carafe for no-mess pouring
Modern stainless steel design
Cone-shaped brew basket
Programmable clock/timer
2-hour automatic shutoff
Auto pause and serve
Non-stick keep-hot plate
Uses a #4 cone-shaped coffee filter
Easy-view water window
Dishwasher-safe carafe and filter basket
1-year limited warranty
Model# 49618
reviews
I really love my brand new Hamilton Beach coffeemaker model #49618.The cone filters deliver the very best coffee flavor and I always make sure the coffeemaker I purchase uses cone filters. It's very easy to add water since the markings are on the outside and very easy to see.Coffee comes out better than much more expensive units that I have owned.I also tried the reusable filters and I noticed the coffee taste is even better than the paper filters.The reusable ones also save quite a lot of money when you are brewing several pots a day.
I have had this coffee maker for a couple of weeks, and it makes very good coffee. I apparently got an amazing deal for $19, since it is now $38, but probably still worth it. It is easy to set up, not too slow to brew, and makes good coffee. I would prefer a lid that didn't hinge (if you take it on and off it's a bit hard to do and I know it's going to break). Also, it really needs auto off feature, because I'm afraid I will forget and leave it on.
makes good coffee fairly quickly and quietly. Simple to use and pot DOES NOT DRIP
Got this on sale for $19.99, looks nice, programmable and automatic shut off. Not sure what else you want or could ask for 20 bucks. Had to buy cone filters instead of regular….whoopdedoo!
I have never owned a coffemaker that uses a cone filter. After having this one i would not want a regular filter one again. The coffee is smoother tasting to me. There is no dripping when the carafe is not on the hot plate to ruin it. All the other ones have dripped at least several drops when the carafe is removed. It might bother some, but I like the fact the clock is not lit. I like all the features. I love the looks of it on the countertop. I am really pleased with it.
Excellent Coffee Maker……..l replaced a coffee market that l had psid well over $100.00 for 15 years ago. It was still working so l gave it to a friend. This Hamilton Beach Coffee Maker surpasses my other. The coffee is excellent, easyto use from start to finish. When pouring it goes directly into the cup, not all over the counter. I make ice coffee often, l can pour the coffee directly into the opening of the 1/2 gallon container without spilling it every place else. I would recommend this machine to anyone looking for an excellent coffee maker.
It works quickly and quietly. The spout pours without spilling, like some units I have used. Be aware that this uses cone filters. I don't remember the size, maybe 4, but they are the larger ones at the grocery store.
I have other Hamilton Beach products that I am satisfied with but this one is a loser. First the brew strength does absolutely nothing. I tried all three setting and there is no difference in the coffee. And what does 1-4 mean? Exactly what does that do anyway? I used the coffee maker without using the settings and there was absolutely no difference. Second the cone filters for this machine is outrageous in price. I was using a B&D coffee maker with the round filters at a reasonable price but I refuse to use the Melitta filters. I will buy the stainless filter basket to use but this just adds to the total price and will be careful of the next H-B product I buy.
The coffee maker for early risers or anyone who needs instant gratification. Convenient pause-and-serve function lets you grab your first cup mid-brew, and 24-hour programming capacity means your coff...
Uses 10 cup basket style coffee filters No-twist lid for instant serving - just press and pour Thermal insulated carafe