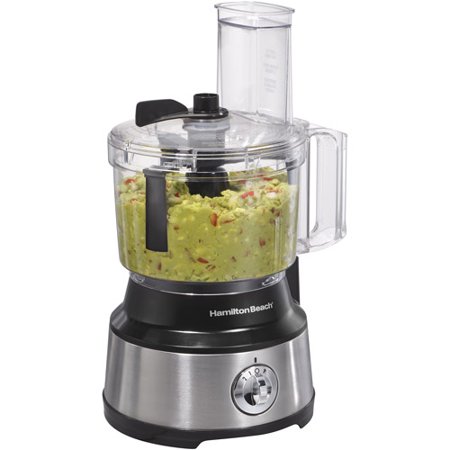 Save time and prep food like a pro with the Hamilton Beach Bowl Scraper 10-Cup Food Processor. Whether you're chopping, shredding or pureeing, you can see your job through to perfection without having to pause, remove the lid and use a spatula to scrape the edges of the bowl. The Hamilton Food Processor's convenient bowl scraper attachment, which can be used during and after processing, quickly and safely removes ingredients that stick. The added benefits are no food waste and more precise recipe preparation. The Hamilton Beach 10-Cup Food Processor also comes with a reversible slicing and shredding disc, and an S-blade for chopping. You'll love the convenience of the large feed chute, which can accommodate a full block of cheese, as well the powerful motor that makes this processor a real workhorse in any kitchen. The Hamilton Beach Bowl Scraper Food Processor's bowl, lid and blades are completely dishwasher safe.
Hamilton Beach Bowl Scraper 10-Cup Food Processor:
10-cup capacity
2 speeds and pulse function
Includes slicing / shredding disc and S-blade
Large feed chute
Bowl, lid and blades are dishwasher safe
450W
Dimensions: 7.5″L x 9.5″W x 13″H
Model# 70730
reviews
This is the best food processor, I highly recommend it. It is well made, easy to use and extremely powerful. I make all my own food and I can't believe the time I have saved in just one week. Makes nut butters, I made cashew and sunflower seed butter with no need to add oil, smooth and delicious. The slicer attachment sliced carrots, kohlrabi, cabbage, onions. and celery like butter. The bowl scraper works great. Excellent product Overall, an excellent product.
Spins very fast and the tool to scrape the sides without removing the top is very handy. Have not used it yet, though. Nice volume, also for my needs.
I got this for my daughters birthday gift and when she opened it, in front of me, a piece of the top on the inside was broken off (the part where the veggies comes out to hit the blade) but other than that she was really happy with it.
I have a granddaughter that's on a feeding tube and I purchased this food processor so her parents could feed her healthy foods instead of processed foods. It works great!
Is powerful and very easy to use is exactly what I was expected,I can make many things on it even peanut butter in 2 minutes Is totally worthy
My wife asked me to find a good food processor so she could make "chow-chow" (sp) a southern tradition sauce requiring chopping of many heads of cabbage and vegetables. My wife used it just days after we got it and it was perfect!

Ever since purchasing a Hamilton Beach bread maker, I have been loyal to the brand. Always the best price, quality and function. This processor has been no exception. Wonderful performance and a dream to clean up. I am a vegan and making nut and other sauces with this is just a dream. HB never lets me down. Thank you HB!!

The processor worked fine but the top broke after the second use so you couldn't lock it in. I returned it and got another one that was in stock.