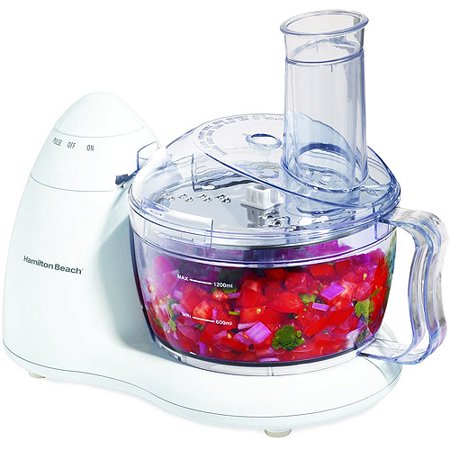 This Hamilton Beach 70450 Food Processor has a powerful and reliable 300-watt motor. This versatile appliance has sharp blades that can chop, slice, shred and grate vegetables in seconds. The Hamilton Beach food processor can be used to prepare a number of food items from soups and cakes to breads and purees. It features a reversible slicing/shredding disc for added convenience together with an On/Pulse dial. The bowl, lids and blades of this 8-cup food processor are dishwasher-safe, making cleanup easy. Simply place the items on the top rack of the dishwasher and let the machine do the rest. This Hamilton Beach food processor has an attractive space-saving design that allows all of the components to fit conveniently inside the bowl.
Hamilton Beach 8-Cup Bowl Food Processor:
300-watt motor
Stainless steel chopping blade
Hamilton Beach food processor has a reversible slicing/shredding disc
Chops, slices, shreds, grates, mixes and purees in seconds
Convenient On/Pulse dial
Dishwasher-safe bowl, lid and blades
Space-saving design: components fit in bowl for easy storage
reviews
Very attractive piece of equipment and it looks nice on my kitchen counter top, so no need to put it away. It works well and the price is exceptional.
Works well – love the size – somewhat cheaper (more flimsy plastic) but would still recommend
I have only used it to grate potatoes for hash browns. 10 seconds and you are done. Did a good job. Happy with it.
I love this food processer the only thing I dislike is I wish it was easyier to turn the speed like a push button would be nicer.
This is just what I was looking for. It is very powerful, quiet, not too big and DOES come with the grater / slicer attachment. I only used a little Oskar processor years ago and wanted something similar, and this really is a great machine for the price. I highly recommend this product!!!
I have only used it once but it was great. Love the pulse feature. Easy cleanup too.
we bought this to replace our very old one. it's the perfect size and works great
Lots of power! I like to make ice cream from frozen bananas and this processor powers through to give them a very smooth ice cream consistency. Great product at a great price.
Problem with locking the lid. Lid needs to be locked to operate. Started fine then quit. Tightened lid. Started again then quit. Really had to force the lid to tighten. Then performed well. Good value for the price.
Only used one time so far and it worked great. Only giving 4 stars because I don't know how it will hold up under intense use. Powerful motor for chopping/mincing dehydrated foods. User friendly
I have many uses for this machine….Except I wish it had a paddle for mixing Dough. I love to bake, and I never used a proccesser to make dough before, I'm curious to find out.. I can't knead dough anymore like I used to, cause I injured my shoulder.. plus the price was reasonable for this size machine.
I purchased this food processor in May 2014. It is June 28th of 2015 and it no longer works. I used it a few times a week during the growing season last year. A few times during the rest of the year. I had not used it in a few months when attempting to use it today. It did work well when it was working and was easy to use. So if you buy it, expect it to be a throw away appliance.