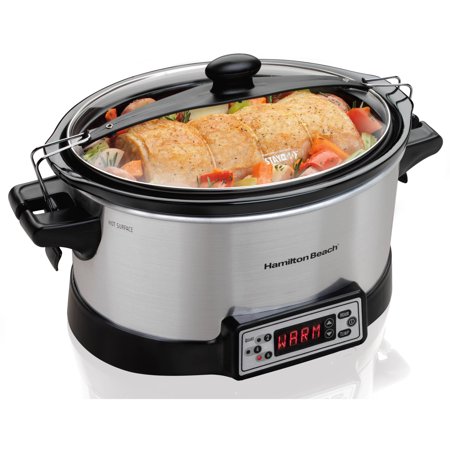 Why own multiple sizes of slow cookers when one cooker can do it all? From one pot meals for two to a stew for the entire family, the Hamilton Beach Programmable Right Size Multi-Quart Slow Cooker gives you the function and flexibility you need for easy meals. Unlike other slow cookers that calibrate their heat to cook an entire vessel full of food, the Hamilton Beach Programmable Right Size Multi-Quart Slow Cooker offers three clearly marked sizes in one crock. Just pick the quantity and the cooker adjusts the temperature automatically. Set it for the desired cook time and let it do the rest. The control panel is easy to use and, once set, the display will toggle between the heat setting and the countdown timer. When finished, it will automatically shift to warm mode. The slow cooker comes with a clip tight sealed lid for spill resistance and easy travel. The Hamilton Beach Programmable Right Size Multi-Quart Slow Cooker helps you cook and unclutter the kitchen.
Hamilton Beach Programmable Right Size Multi-Quart Slow Cooker:
3 sizes in 1 crock: 6, 4, or 2 qt
Eliminates the need for multiple slow cookers
Temperature automatically adjusts to the quantity being cooked
Fill: add food up to the 6, 4, or 2 qt mark
Set: select the quart size, cooking time, and heat setting
Relax: display counts down remaining time, then shifts to warm
Take it to go: lid securely clips onto base
Cook roasts, appetizers, and everything in-between
Stoneware is marked for easy measuring
Dishwasher safe removable stoneware and lid
Full-grip handles make carrying easier
Clip-tight sealed lid for spill resistance and easy travel
Easy-to-use control panel
LED display counts down the remaining time, then shifts to warm
1-year limited warranty
Model# 33642
reviews
I bought this knowing nothing about slow cookers and it has been very easy to use and easy to clean. So far, I have made pulled pork and pulled roast beef. Next on the list is a spicy cheese dip for football season. I can't wait! The outcomes have been excellent!
It was a gift for a friend and it seems to me that she likes it very much. She uses it several times per week and loves the different size options. When my slow Cooker dies I would probably consider this one.
Have had product for a month now and I am very pleased with his performance. So far I have been able to make various soups and roast a whole chicken which came out amazing. My slow cooker was not what was pictured however it did not have the locking mechanism but that did not bother me because it still function fine.
The product is not the same as pictured. Does not have the locking lid and lid that came with it is not tight. The locking lid was one of the features that influenced my ordering this.
After using it twice it is the best slow cooker we have had. We've used it for 4 qt and 6 qt settings & worked perfect on both. It was especially nice taking it to a potluck and not having it spill over while traveling because of the looking lid.
I bought this a few weeks ago but only started using it this week, so far ive cooked 2 meals in it, and they were delicious. The slow cooker is very easy to use, the 2,4,6 qrt is GREAT(i used the 4 and 6 setting so far), its easy to clean. Im just so happy I bought this product !!
I almost never review anything, and since this slow cooker is not available in stores almost anywhere, I'm going to give you some advice: buy it. I had (have, you never know when a second cooker might come in handy) a basic 5-quart slow cooker from Hamilton Beach, but because some recipes only barely halfway filled the crock or because I tend to work 10-12 hour days, my food was often overcooked. This slow cooker is perfect for anyone that works longer hours than usual and/or makes recipes that aren't always meant to feed 8 people. I've been using this slow cooker 3-4 days a week since January (so for about two full months now), and I've used it on all of the different size settings. It is fantastic! My 2-quart recipes don't overcook, and my 6-quart recipes cook perfectly. My only cons are that you can only set the timer in half hour increments and it doesn't make any sound to tell you when it's switched from cooking to warming (just a little fancy something I'd like). Unlike the Set-n-Forget 6-quart cooker, this cooker also does not come with a meat thermometer, but that's an easy fix: just buy one you can use and close the lid on so the lid still seals (Polder makes a nice one). Overall, if you're looking for a slow cooker than can be used for a multitude of recipes and won't ruin your food, choose this one!
Lid was damaged had to return it. So never got to use it.