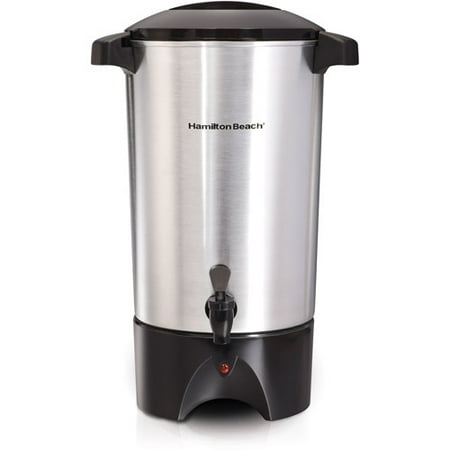 Make enough coffee to satisfy large groups with the Hamilton Beach 42-Cup Coffee Urn. Easy to set up and simple to store, it's suitable for home or commercial use. With a silver-colored exterior that provides a modern, elegant appearance, this large coffee urn is suitable for home use as well as for use at social clubs, cafes and restaurants. A good choice for use at breakfast buffets and in employee break rooms, it makes 12 to 42 cups of steaming hot brew per cycle. The Hamilton coffee urn has a number of useful features including a removable power cord that simplifies cleanup and storage. Twist-lock lids and large handles add to the unit's convenience and ease of operation. Equipped with a ready-to-serve light on the front, this large coffee urn is also suitable for making big batches of hot water for tea, cocoa and other warm, delicious beverages. The unit's two-way dispenser adds to its convenience and ease of operation: press it down to fill a cup or flip it into vertical position to fill a carafe quickly. Wherever you use it, the Hamilton coffee urn will be a hit thanks to its ability to make enough joe to please a crowd. Take it tailgating, set it up during business meetings or take advantage of its capacity for buffet-style entertaining at home.
Hamilton Beach 42-Cup Coffee Urn:
Makes 12 to 42 cups
Ready-to-serve light
Easy to fill
Large coffee urn features a convenient 2-way dispenser
Twist-lock lid and large handles
Removable power cord
Easy to clean and store
Warnings:
California Proposition 65 Warning: WARNING: This product contains chemicals known to the State of California to cause cancer andbirth defects or other reproductive harm.
reviews
This was purchased for our Senior Citizens Center. It is just what we needed–easy to use and clean.
I already had one, this is my second, based on the excellent performance of the first.
the life span for this coffee pot is about a year which is very good when it is used 24-7 for my job.
We have this coffee pot in use at work everyday. We have had it in use a little over a week now, and no problems. We make two pots a day of 36 cups each. We as a group have had these pots before and get ten to thirteen years out of each one before they get tired and ran down. Good Value…
I bought this as a second coffee maker for my husband to use in his wood working/work shop when it's his turn to host his Thursday Morning Mens Coffee Group. He said it worked perfectly and was easy to use (he is "kitchen appliance challanged)!
The coffee urn works great. Used it for a family gathering. Coffee was made in a timely fashion and tasted great.
Not a good purchased…tarnished (looked rusty) after first use