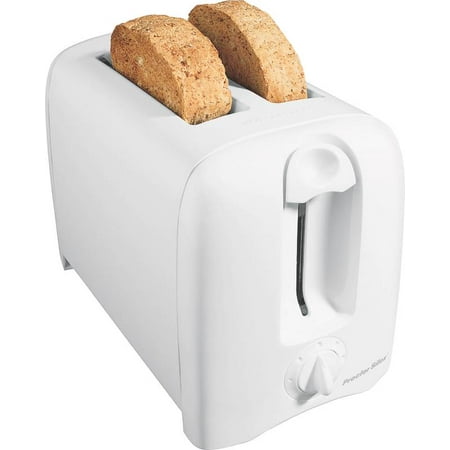 Prepare your breakfast with the Hamilton Beach 2-Slice Cool-Wall Toaster. Its white finish easily blends in with all types of kitchen decor. This pop-up toaster features cool-wall sides, a slide-out crumb tray and an auto shutoff. It also has a boost lifter to raise the slices higher. The white toaster is durably made for lasting performance.
Hamilton Beach 2-Slice Cool-Wall Toaster, White:
Automatic toast boost lifts slices higher
Auto shutoff
Cool-wall sides
Shade selector
The Hamilton Beach toaster has a slide-out crumb tray
Model# 22611
Warnings
:
Warning Text: For household use only.
California Proposition 65 Warning: WARNING: This product contains chemicals known to the State of California to cause cancer and/or birth defects or other reproductive harm
reviews
Love the toaster and it's wide enough for bagels, which my granddaughter loves.
This is a no frills toaster. The toast doesn't drop down when you push the lever, that just starts to timed heating. At the end of heating, the toast doesn't pop up. You lift the lever up to bring up the toast. You also need to turn the timer knob all the way counterclockwise in order to stop the toasting cycle. There is also a warning that this toaster should not be used for toaster pastries (pop tarts)Aside from these issues, the heating cycle selector seems to work well and the slots are extra wide.
there is not much you can say about a toaster. there is a feature that i think is good and that would be that you can raise the toast up higher if the bread you are using are small slices.compact and easy to use toast beard well with out much adjustments
This is the first toaster I have ever gotten that has actually did not burn the toast. It is also amazing with bagels. My kids and I have always have had a bagel issue till now. I am so happy and I would buy this toaster ten times over. I am actually considering buying them for Christmas presents for my whole family I like it so much. I just kind of wish it had four slots instead of two. Also, the tray it has underneath for the crumbs is the best invention ever!!!! Good job Hamilton me and my family are very happy to finally not have burnt toast!!!
This toaster works great on wider slices of bread from a loaf that we had made and could slice xtra wide. It works very well on bagels also, since the "wide-mouth" slots fit them with ease. I do appreciate the multiple browning selections that are offered so that "Frozen Waffles" can sit for a langer time and toast well without being burnt. The removable crumb tray keeps the bottom of the toaster from a build up that will eventually create a mess and smell of burnt toast. It is much more convenient to prevent this than our previous toaster that had to be turned upside down to remove the crumbs. It does not take up too much room on the countertop and since we chose the white, it adds a clean look to the kitchen.
Hamilton Beach 2-Slice Cool-Wall Toaster is a good product. There are no bells and whistles It is a basic toaster. There is a knob on the side that you can easily adjust to how light or dark you would like your toast. This toaster toast bread ,bagels or waffles very quickly and evenly. Each time I used it my results where the same. This product consistently toasted my bread products to perfection. The only thing I didn't like was that it had a strong electrical smell for the first few uses, but it quickly fades away. Overall i would recommend this toaster.
Bread would not stay down. Called customer service and was treated kindly. Was told the toaster was defective. Unfortunately, I'd already recycled the box and couldn't return it. Had to throw toasted away. Ordered another brand.