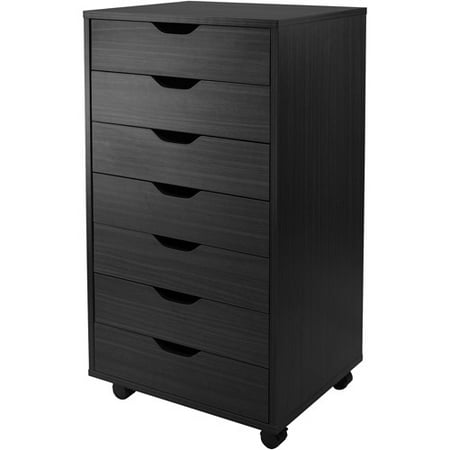 The Halifax Cabinet features a multitude of drawers and locking casters.
Halifax 7-Drawer Cabinet with Casters, Multiple Finishes:
Features a multitude of drawers
Locking casters
Dimensions: 19.21″W x 15.98″D x 35.35″H
Cut-out drawer pull
Drawer inside dimensions: 15.90″W x 11.73″D x 2.55″H
2.16″ is clearance between floor and bottom of cart
Assembly required
60-day warranty
Directions: 
Fabric Care Instructions: Wipe Clean
Reviews
I am satisfied with this purchase overall. I just moved to a new house. On my list of things to do is to remodel my kitchen next year. In the mean time I needed drawers. My kitchen only has 1 drawer. I purchased this 7 draw cabinet to temporarily store my kitchen item that need to go in a drawer for better access. It wasn't until I had it more than 1/2 complete I noticed 3 – 1 "areas on the outside of the cabinet that came out of the box dinged up. It would be too much trouble to return. I used a black marker on the damaged areas and they are not as noticeable. The directions were not too hard to follow. I assembled it over 2 evenings after work. It satisfies my needs. My recommendation – Check all parts for damage before assembly.
Putting the cabinet together was not as complicated as i thought it would be. i use it for my makeup collection and everything fits just perfect. i really recommend it if you want to spend way less then the Alex Drawer from IKEA. There almost the same. except this way is like half the price. 🙂
For the price, this is a great little unit. Less expensive than comparable Ikea options. The parts & pieces it arrived in totally overwhelmed me (and I consider myself pretty handy!) so I called in reinforcements, lol. My friend said that if someone didn't have a power tool this would taken them all day to put together. Thankfully he zipped it together in about two hours, give or take…
Perfect size to store my crafts and on wheels! Some said it was hard to put together but if you read through the directions before you start it's not bad. Does take two people though to join the sides to the back, top and bottom.
Assembly was easy and did it on my own (19 year old girl). The parts fit perfectly together. Shipping was also quick. No damage on the wood when it arrived. So everything was good. I am using it for my makeup and jewelry.
I just got this today and I'm in love, some people said it was hard to put together, but it wasn't that bad, nothing is labeled but if you pay attention to the pictures it's really quite easy. (As I removed things from the shipping box I sorted them by piece) I was nervous about the actual drawers being a pain, but they were the quickest part! And it looks amazing! I can't wait to fill it!
I was able to put it together…but the accuracy of the holes and screws were absolutely terrible. Making it very difficult to align everything. You can assemble, buy I guarantee it will not be a long lasting furniture piece do to the poor quality of the screws and precision of wholes.