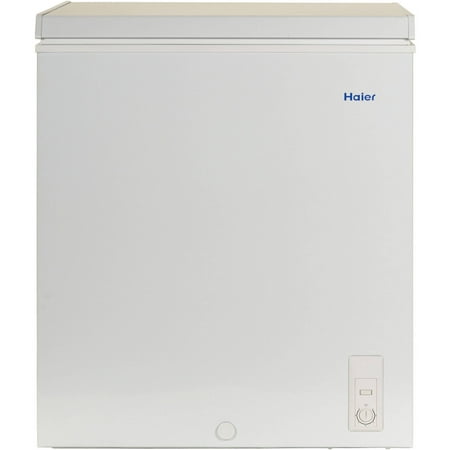 The Haier HF50CM23NW Chest Freezer is the appliance you have been looking for to help maximize frozen food storage. It has a great space saving, flat back design, making it the perfect fit for any room of your home or business. Dont let its compact design fool you. The 5.0 cu. ft. capacity holds up to 175 pounds of food. Clean up is easier with removable baskets and a textured aluminum interior. Make your food as cool as you like with the adjustable temperature controls and see everything clearly thanks to the bright interior light.
Haier 5.0 cu ft Chest Freezer:
Holds approximately 175 lbs of frozen foods
Adjustable temperature control located in front of unit for easy access
Space-saving flat-back design
Defrost drain
Storage basket
Manual defrost
RoHS compliant
reviews
Very spacious and came in handy
I love my freezer. It works fabulously. There is some front. However, not enough to take up excess space inside the freezer. It was lightweight and easy to set up when it was delivered.
When I received my freezer. I unwrapped the packaging and noticed damage at the bottom of the freezer right where all the control components are. The packaging at the bottom was a flimsy sheet of plastic zip tied to the freezer around the cardboard box sides and top (no cardboard on the bottom). If sufficient bottom packaging like Styrofoam surround had been used, the damage could have been avoided. Aside from the damage, it still works as expected.
This is the perfect size for a small area and exactly what I needed for additional freezer storage.
I bought this a month ago and it is awsome. Tons of room but doesn't take up alot of space.
I like it very much thinking about sending my sister one since her broke down.
I bought this during a February mark down sale. This is a perfect size freezer for us. Great price, even before the discount.
We needed extra freezer space for when my boyfriend gets a deer / bear while out hunting. This will fit all the meat plus anything extra we might need to store in it.
I bought this freezer to have extra freezer space. It's small, but perfect for my needs. It holds more than I expected, and is great!
This freezer completely stopped working after 15 months. I lost all food inside. I would not recommend this.