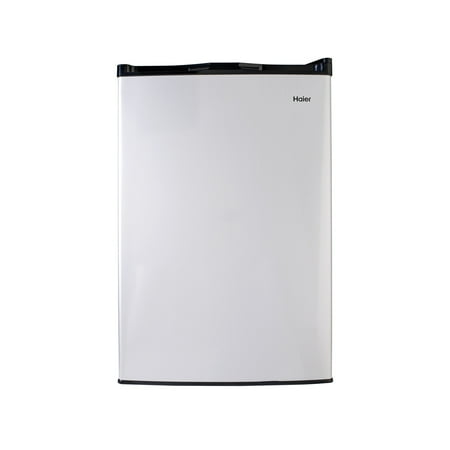 This Haier 4.5 cu. ft. Refrigerator is ideal for any space where you want to simple access to cold drinks and food. Use it in the game room, office or even the dorm. It has two adjustable shelves so you can accommodate items of various sizes. Its space-saving, flat back design allows for easy flush-wall installation. The door has four distinct storage areas with enough room to store 2-liter bottles. It also has a can dispenser for convenience. Use the half-width freezer section to hold frozen foods and ice. This Haier mini fridge has a sleek look that easily enhances most types of existing dcor and is also easy to clean. It has a fingerprint resistant stainless steel appearance to keep it looking good. Use it any space to keep your favorite drinks and food available. Haier 4.5 cu ft Refrigerator, Virtual Steel:
4.5-cu. ft. capacity
Ideal in an office, game room or any place you want simple access to cold drinks and food
Easily store large groceries with 2 adjustable shelves
4 distinct storage areas, including space for 2L bottles and a convenient can dispenser
Space-saving, flat-back design
The Haier compact refrigerator is easy to clean
Half-width freezer section for frozen foods and ice with a full-width convertible drip storage tray
1 year parts and labor, 5-year sealed system warranty
Dimensions of the Haier compact refrigerator: 22.20″L x 20.30″W x 32.10″H
Model# HC46SF10SV
reviews
I bought this a month ago and everything is Cold
It will hold a case of wine and 12 pack of soda with space to spare and keeps them nice and cold. It was larger than the ones locally and I got free shipping. The local store wanted $50 for delivery.
I ordered this online to be picked up at a local store. When I picked it up, the box was pretty beat up. But I took it anyway, and when I got it back to the office and took the box off, there was a dent and scratch on the door. I called, but the store I picked it up at didn't have any more, but another close store did. I returned it to that store and got a new one, with an intact box, and it was perfect when I opened it up. We have it in our conference room, it looks great in there and keeps our drinks cold.
I followed the User Guide's instructions to leave upright for more than 24 hours before plugging it in and, once plugged in, I set it to level 4 for more than 24 hours before putting it up to level 6. It was very cold at level 6. I will test with a thermometer soon and update this review if needed.
Unit can get very cold with a moderate setting. Runs quietly. Door must be adjusted for easy closing.
This purchase turned out to be a great value. The unit runs very quietly. We fill it to capacity and it does a great job of keeping everything cold.
I bought this for one of our Bed and Breakfast guest rooms. I was pleasantly surprised that it was a nice size! It worked as soon as I plugged it in and has been doing a great job for our need. I have not had any problems so far and we received it in July 2016.
Bought this minifridge about 6mths ago. Was working great until day after Thanksgiving. Now keeps running and no cold.