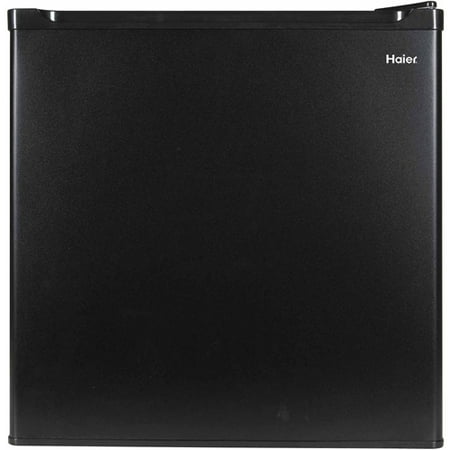 Keep beverages, cold cuts, cheeses and more cold and close at hand with this contemporary Haier 1.7-cu ft Refrigerator. It features a half-width freezer compartment with a door that is ideal for ice and frozen food storage. This black compact refrigerator has a full-width slide-out wire shelf that will hold fruit and vegetables, a lower area that will hold condiments and spacious door storage that accommodates a 2-liter bottle, salad dressing and more. In addition, the door is equipped with a built-in open compartment that will easily hold yogurt or other small containers. It is ideal for use in a dorm room, game room, studio apartment, office or camper. Haier 1.7-cu ft Refrigerator, Black:
1.7 cu ft
Compressor cooling
Half-width freezer compartment
2-liter bottle door storage
Haier compact refrigerator is ideal for those with smaller spaces
Easy to care for and maintain
Warranty: 1-year parts and labor; 5-year sealed system
Dimensions: 18.88″L x 17.88″W x 19.38″H
Model# HC17SF10RB
reviews
I bought this last week for my office. It's great, cools very well & spacious inside. Very satisfied with this.
Use it in my office. Holds lunch, a few waters or sodas. Great for one or two people. Keeps things really cold. I am impressed for its price point.
Works well. Good value for price. Quiet, effective, unobtrusive in a small space
My Mini fridge Was The Best Investment Ever. Even though sometimes things freeze when the setting is on 4. It's still great and quiet
This little fridge is perfect for our upstairs bedroom and tv room. Keeps things so cold, and no need to run downstairs to the kitchen for night time drinks or snacks. It's very quiet too.
It works perfectly for me. It is very cold, even at the lowest setting. It holds my 32 ounce coffee creamer, multiple bottles of water, and my Red Bulls.
I bought this for m granddaughter to keep bottled water and juice in her room. She loves not having to run up and down stairs while doing homework and her friends all want one now. It doesn't keep items super cold but work great for our purpose
Fits great in my office and holds everything I need. Only gave it 4 stars because even though the door is supposed to be reversible, there are no holes or mounting plate for it. Maybe just a fluke?
If you are looking for an extremely small foot print refrigerator this is the one your looking for. It won't quite hold a 24 pack case of 16oz. bottles of water, I managed to put 18 into it in similar fashion to a Jinga puzzle. It keeps the water cold, doesn't seem to run for extended periods of time to maintain the internal temperature. It is located in the maintenance office in a manufacturing facility, with ambient temps of 70 degrees constant. For the price you definitely get what your paying for. The shipping was spot on as far as the expected arrival times, packaging was adequate to protect the item. I would purchase this item again should the need arise.
I bought this fridge for my office. The size is perfect. There is a bit of noise (more like a whirring sound), but that does not bother me too much. If you expect it to be super cool then you may be disappointed. It is a small fridge so cannot expect it to perform like the big size fridge. However, when I open the package it was dented at the top right corner. I think this was more the careless handling of the delivery. I thought of taking it back to Walmart for an exchange but frankly speaking, I didn't have the time nor energy to lugged it back to Walmart, so it is sitting in my office. It will be good if they can put a sticker/ label "Handle with Care" or "Fragile" or something to that effect on the package, in BIG, BOLD, so the delivery people can take more care during the handling and delivery process.