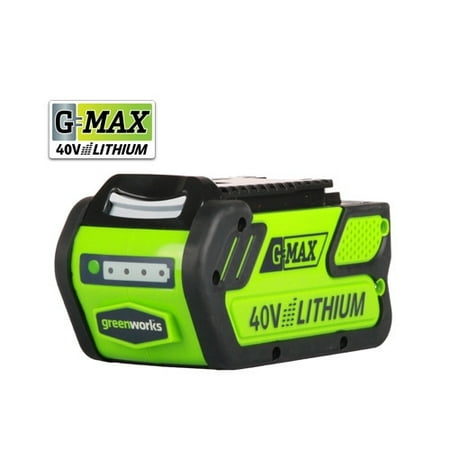 Become more efficient when working in your yard with the GreenWorks G-MAX 40-Volt 4 AH Lithium-Ion Lawn Tool Series — the gas alternative solution you have been waiting on. This interchangeable battery platform offers all the tools you need to complete your yard work without sacrificing performance or power. The innovative G-MAX 40-Volt 4 AH Lithium-Ion Battery delivers longer run time, higher performance and more efficiency among all GreenWorks G-MAX Cordless tools (sold separately). Featuring a simple snap on and off design for ease of use and innovative battery charge level indicator, lithium-ion batteries offer no negative memory effect, consistent fade-free power throughout its entire run cycle and three times longer run time than NiCad batteries. From mowing and edging, to trimming and blowing, you can now complete your yard work with one battery platform that will provide you with the power and performance you need to get the job done quickly and efficiently.
GreenWorks G-MAX 40-Volt 4AH Lithium-Ion Battery:
Compatible only with GreenWorks G-MAX tools (sold separately)
Superior power and performance offering fade-free power with no memory loss
Simple and easy to use
Snaps in and out of tool easily with battery charge indicator lights for power level check
Charge time: 120 minutes
2-year warranty
Model# 29472
reviews
Walmart provided the fastest delivery and cheapest price of any online distributor of this product. Battery arrived the day after I ordered it while others only promised delivery "within 10 days."
It is a great battery and a great price
does ok except if you have only 1 battery and run that 1 down, I have found you have to wait up to an hour before it will start to charge. The battery can be dead but will show green on charger unless you wait , then later on it will show charging and will charge in about an hour.