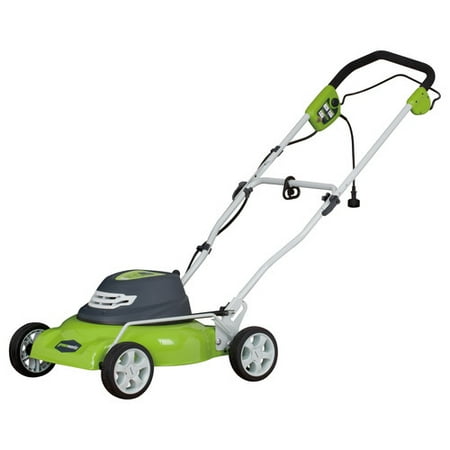 The Greenworks Electric Lawn Mower has a zero carbon footprint, so no emissions. This 18″ electric-powered lawn mower will allow you to care for your yard without raising up a cloud of gas emissions that's harmful to you and the environment. The Greenworks Electric Lawn Mower will provide all the power you need without polluting the air or forcing you to keep hauling your gas can to the nearest station.
Keep your lawn and, more importantly, the environment, green with the Greenworks Electric Lawn Mower. The durable steel cutting deck provides the strength you need to handle unruly growth, and you'll love the reduced cleanup time provided by the rear bagging and mulching capabilities. The 18″ electric-powered lawn mower has 7-inch front wheels and 8-inch rear wheels which cut an 18-inch path. Adjust the height of the grass to your preference with the seven-position lever. When it's time to put the mower back in the garage, the cam-lock handle makes it easy to fold up and store. The mower includes a mulch plug and a collection bag. A 4-year manufacturer's warranty is provided with this battery powered lawn mower. Weight: 45.75 lbs.
Greenworks 18″ Electric-Powered Lawn Mower:
Battery powered lawn mower
Durable steel cutting deck
Easy cam-lock handle for quick and easy storage
18-inch cutting path
7-position height-adjustable lever
Includes 4-year manufacturer's warranty
Warnings
:
California Proposition 65 Warning: WARNING: This product contains chemicals known to the State of California to cause cancer andbirth defects or other reproductive harm.
reviews
The mower was light weight and easy to maneuver. It was as promised, there was nothing to assemble. I like the fact that it mulches the grass, which makes for less clean up.
Easiest assembly ever, out of the box & went straight to yard to use. So appreciate the quiet & ease of using a non gas blower. Yes female, non mechanical and appreciate the ease of making it work.
Don't let the small size fool you. This mower does great! Light weight and easy to push. Handle was easy to assemble too. I did have trouble coming up with a technique for keeping the cord out of my way so I looked up a video on You tube.
Great machine! We have a rapid growing lawn thick with pockets of clover. This mower cuts right through it no problem. It's very easy to adjust the height of the blades as well, and we love the cord 'tie' that keeps the cord up and out of your way.
I purchase this lawnmower a few weeks ago. I was very pleased with it. Took it out of the box plugged it in and it worked wonderfully. Couldn't ask for a better mower. I had no problems with it. It is very easy to adjust and it works great.
The item arrived ready to use; all I had to do was to adjust the handle. It gives an amazingly smooth start and cut. Works way better than a gas mower. Has incredible power and was good enough to cut my huge area…even though I ran over the cord (user error). My husband used it as well for the back yard and loved how it did on the slopes. Would recommend to everyone.
I bought this for my hubs and he likes it. His only complaint (so far) is that it is an adjustment getting used to having the cord. Works well for our small yard.
I have had nothing but trouble with this lawnmower. The blade sliced the black shield and I was told not to back up—they sent a new one and it was the wrong one. Then the motor and lever broke–had only used 6 times. They did replace the mower.. Used the new one once last fall and 2 times this spring. My lawn is only about 20×100 (so very small) and now the wheel (plastic is broken). This is a piece of junk. Not worth the money!!! I did not abuse this mower or mistreat it!! Oh–they are sending me a new set of wheels—this is so that when the other 3 break I won't have to call them