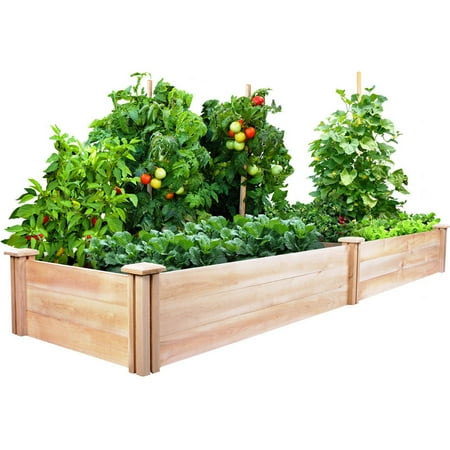 The two-foot x eight-foot x 10.5-inch Cedar Raised Garden Bed lets you grow your all your favorite herbs, plants, and vegetables. Assembling the bed is easy: simply slide the boards into the corner posts to form your frame, attach the caps, and then add your soil and plants. You won't find an easier way to create the garden of your dreams.
Greenes Fence 2′ x 8′ x 10.5″ Cedar Raised Garden Bed:
2′ x 8′ x 10.5″
Quick and easy setup
Tool-free frame assembly
Open bottom design
Naturally rot resistant cedar
Stacks and expands with additional kits
reviews
Quick and easy to put together, works great
We gave this as a gift . They said assembly was very easy! They are now filling it with summer vegetables.
excellent! I used this to make a 16ft planter with my garden wall as the back.
The beds are just the perfect size and are relatively easy to assemble. They come without detailed instructions so a considerable amount of deductive reasoning is necessary.
They aren't kidding when they say this is easy to assemble. And you don't need any tools except to attach the little finials on the corners. But even that is easy – I just used my drill and went straight into the wood with the screw. I assembled five of these in less than an hour. Yes, less than an hour. These come in many varieties and sizes, so just be sure the ones you buy are big enough AND deep enough. Great product! And made of cedar, so they smell great, too.
We bought a Greene's raised garden bed frame specifically to create an herb garden and couldn't be happier. The frame arrived in a single box and triggered in me a case of DYI anxiety as memories of past some-assembly-required projects taunted me. There will be no anxiety dreams rooted in this Greene's flower bed. The tongue-in-groove posts and slats slid together like old friends. It wasn't even necessary to consult the instructions. Now, in addition to 20 cubic feet of soil and compost, our our frame is the home of rosemary, basil, thyme, lavender and sage that we harvested as needed all winter.
I wanted to let you know that these Greene's products are extremely poor quality. They haven't even lasted 6 months. They are a very rough cut, and they are splitting constantly. They didn't fit together well, and so as the wood expands, the corners and planks crack and break. They are firewood, at this point. The wood doesn't appear to be any species of cedar I am familiar with, and that's really odd. It isn't weathering or holding up like cedar at all, and the planks are too thin to hold damp soil in the volume of the planters. The 4′ fencing doesn't fit in the boxes if you use the corner caps, and the planks expand and pop out if you don't use the caps.