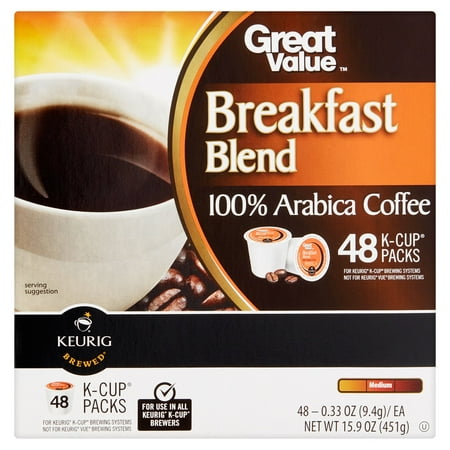 Breakfast Blend 100% Arabica Coffee K-Cup Packs 

Great Value Breakfast Blend Medium Roast Coffee K-Cups:
100% Arabica coffee
48 count Great Value coffee K-cups, 0.33 oz is for use in all Keurig K-Cup brewers
Ingredients
:
Ingredients: 100% Arabica Coffee
Directions
:
Instructions: Store K-Cup Packs in a cool, dry place.
reviews
We drive out of the way for this coffee! Great for the price and tastes great! I wouldn't want to drink anything else!! Love it and so do guests!
I brought this from the store and did not had high expectations, but it turned out to be super good coffee. I thoroughly enjoy having this coffee and look forward to have it everyday. Definitely recommend it.
My husband prefers this coffee to the more expensive name brands
This makes a decent cup of coffee in my Keurig K-15 coffee maker. I like it and this was my second order of it on Walmart.com and today when I was shopping at my local Walmart I was happy to see that it was available there along with a wide variety of coffee for Keurig Coffee machines!!
this coffee taste as good as the higher priced coffee
This is a medium roast coffee, very smooth first thing in the morning. It is a great value for the money and I do recommend it.
We love this coffee and we love the fact that we do not have to pay additional money for high priced adds. It is as good as the others out there but at a more reasonable price. Smooth and delicious sums it up for us.
I like a coffee that's going to jump start my heart and brain to get me going in the morning. love it.
Nothing makes my husband's day like a great cup of coffee. It brings out that first smile of the morning. The Great Value brand provides that more bang for your buck reality and the great flavor keeps my guy happy. What more could I want
The coffee itself is great, however…the K-cup that is is packaged in is TERRRIBLE!!!! We have wasted so many cups of coffee due to the K-cup leaking grounds it is ridiculous. The plastic the K-cup is made out of is so flimsy and cheap when the machine punctures the cup it makes a huge hole and all the grounds come through with the coffee. Highly disappointed since we do enjoy the coffee. Don't waste your money!