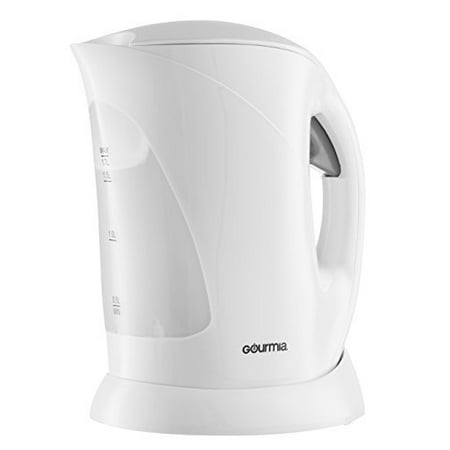 Need boiling water, the Gourmia GK200 electric kettle will boil your water in the most quick and efficient way. With a capacity of up to 7 cups and a durable composite exterior to take the heat, our powerful 1500W rapid boil system boils your water faster than any microwave orstove-topkettle. Our 360 degree cordless charging for grab and go convenience and water level indicator makes it easy to use. For your safety theautomaticshutoff feature turns off the kettlewhen the water is broughtto a boil, and if your kettle is emptytheboil dry protection keeps the kettle from scorching. So go enjoy your cup of tea or coffee instantly!
Boil 1.8 Qtr. water for tea, coffee, hot chocolate or instant soup Spout filter keeps water poured out clean and pure. Exterior water gauge for easy measuring 1500 watt heating element beneath the stainless floor of the unit Cordless design allows the kettle to be lifted from its base for convenient filling and serving Features an automatic shut-off, double boil-dry safety shut-off and lid-lock
reviews
It is really fast and efficient. It was exactly what I needed!
This kettle was reasonable prize and is fast in heating water and I love it.
I love this kettle. Making tea is so much better.
Easy to use. Heats up water fast.
Great price but the quality is a tad low. Very light plastic and the base it sits in some times does not stay put when lifting the kettle. Overall, it heats up fast and holds quite a bit of water. Also, it has an auto shut off after the water boils so that is all a plus. If you want stable and better quality, spend a little more.
Cordless Kettle with Speed Boil-212 degree Heating System360 degree Swivel BaseStainless Steel ExteriorHeat Resistant, Lightweight Composite ExteriorAuto Shut Off and Boil Detection
Durable composite exterior, keeps the heat so you can pour with peace of mind Concealed heating element for safer, faster heating 7 cup capacity Filter + XL Water level indicator Auto power-off + manu...