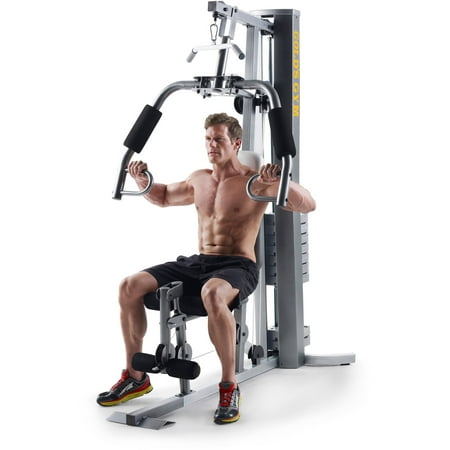 Save yourself the time and hassle of a gym membership with the Gold's Gym XRS 50 Home Gym. This complete workout unit includes everything you need to engage your entire body for better health and more powerful, lean muscle growth. It features a high and low pulley system with up to 280 lbs of muscle- and endurance-building resistance. Use this home system to target and tone multiple muscle groups. It also has a combined chest press/butterfly arms station with a 4-roll leg developer. The Gold's Gym Home Gym is durable and made of high-quality parts. Store it in a spare room or a garage for easy access. It has a sewn vinyl seat for a comfortable workout experience and comes with a step-by-step exercise chart to ensure you're maximizing each movement. When it comes to building your fitness, a home gym is a good alternative or supplement to a full gym membership.

Gold's Gym XRS 50 Home Gym:
Up to 280 lbs of resistance
Fitness home gym has a combination chest press/butterfly arms station with 4-roll leg developer
High and low pulley with a lat bar
112 lbs vinyl weight stack
Assembly required
Assembled dimensions: 78.6″L x 37.6″W x 63.63″H
Boxed dimensions: 47.64″L x 18.31″W x 18.31″H
Model# GGSY24613
reviews
This is a great home gym! The only thing that I would fix is the box that it comes in because my box was falling apart when I picked it up from the store. Everything seems to be well built! It took me about 30 mins to unpack everything and get it layed out. It took me 3-4 hrs to put together by myself with the help of an impact. Instructions are easy to follow and all the bolts and nuts are heat shrunk onto three cardboard pieces which is great! I would definitely buy this gym again!!
It is great. The best workout I've ever had. Wasn't to hard to put together. Would have been better if the pullies were labeled. Great price for what you get.
When using only one block there is a slight problem with lower the weights back down as it doesn't seem to line up just as it should. For the most part is works as good if not better than I had expected for the price. I am well pleased.
after 2 weeks I can feel improvements. I know I will see them soon if I continue my routine. I would recommend this item to all people who are serious about getting in shape.
2 person job to assemble. Works great. We highly recommend this machine
My husband and I are really enjoying our workouts. The equipment is the same as the gym just conveniently in our garage. It was missing a part when arrived but easy enough to get and assemble .
I thought I would save money and use this machine at home, lol you get what you pay for.. I am out $200.00 which could have been used for gym fees!
Gold's Gym XRS 50 Home Gym: Up to 280 lbs of resistanceFitness home gym has a combination chest press/butterfly arms station with 4-roll leg developerHigh and low pulley with a lat bar112 lbs vinyl we...