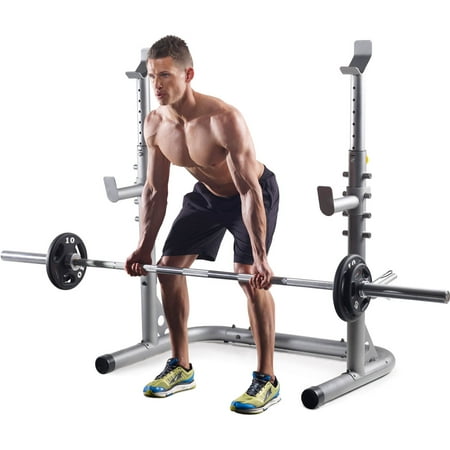 With the Gold's Gym XRS 20 Olympic Workout Rack, you can train just like the pros do. The Gold's Gym XRS 20 Olympic Workout Rack features adjustable uprights and safety spotters which accommodate multiple heights and comfort levels, so it can be used by multiple people in a household. The Gold's Gym XRS 20 Olympic Workout Rack will allow you to perform many different weight exercises like bench presses, squats and overhead lifts. When you are done exercising, you can store your weights in the convenient integrated plate storage unit. The Gold's Gym XRS 20 Olympic Workout Rack allows you to weight train from the comfort of your own home.
Gold's Gym XRS 20 Olympic Workout Rack:
Olympic Width Frame 
Work out like the pros with the Olympic width frame, which is compatible with Olympic-sized weight sets
Adjustable Uprights 
For multiple heights and comfort levels, utilize the adjustable uprights to accommodate different users
Rack Includes Adjustable Safety Spotters 
Lock in the adjustable safety spotters at your desired height to protect yourself and streamline your weightlifting routine
Squat Rack 
Target and isolate the muscles in your legs with a squat rack, allowing you to focus more closely on those specific muscles
Power Catch Uprights 
Strong and sturdy, the power catch uprights are built to withstand the toughest workouts
Includes Weight Plate Storage 
Keep your weights close at hand with the convenient built-in weight plate storage, weight plates sold separately
Warnings:
California Proposition 65 Warning: WARNING: This product contains chemicals known to the State of California to cause cancer andbirth defects or other reproductive harm.
reviews
Easy to assemble and the well made.
Pretty good for the price. I purchased it for both squatting and benching to be used with the additional bench. Its pretty solid. The most I've put on it has been 260 pounds. I haven't had an issue.
This is a great set up for squats–very sturdy and not hard to assemble. Its not as good for benching as the main rests are too high to use for the bar, that is they are out of reach when laying on a flat bench. However, the safety arms aren't great for benching either (though they are serviceable) because they are too long making it easy to hit the arms when lifting and they might possibly be knocked out of place. Consequently, I am reluctant to bench heavier weights on this rack unless I have a spotter, which I rarely do at home. It would probably be fine for incline but totally unusable for decline bench. Golds should make/sell a shorter version of the arms for people who want to bench as they are easily moved. Alas I cant find them listed as an accessory anywhere.
Was everything I expect. And at a lower price was even better. Thank you
Easy to put together. Seems sturdy enough to hold my 300lb Olympic weight set. Arrived one day later than originally estimated, not a big deal. Good price and addition to anyone building a simple home gym.
I used one time and enjoy it! just be careful it does not use a standard size barbell or weights. I had to go out and get an Olympic barbell and weights.
It's not the most sturdy. It cannot be used to bench press, but it gets the job done with squats. It sure is cheap.