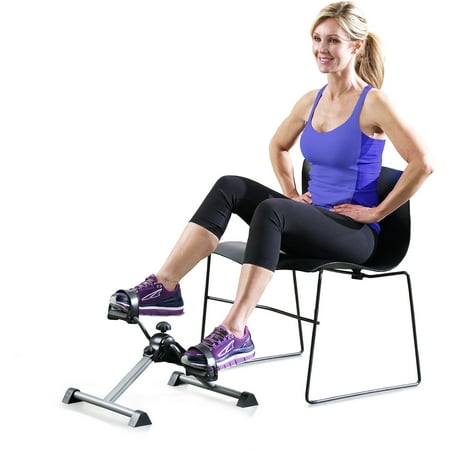 Improve your strength, coordination and circulation without leaving the comfort of your chair. This simple, low-impact cardio workout is designed to deliver total-body benefits. Plus, an electronic meter tracks your total workout time so you stay on top of your progress.
Gold's Gym Upper & Lower Body Cycle:
Electronic meter with workout timer
Pedal straps hold feet in place
Easy assembly, no tools required
Compact, quiet design
Non-slip feet
Durable steel frame
Fold for storage
Warnings:
California Proposition 65 Warning: This product contains one or more chemicals known to the State of California to cause cancer, birth defects and reproductive harm.
reviews
It is a very well made exercise thingy. Work great. Only problem is… I didn't account for the knee space under my desk at work. So the fault it completely on me. So I just have to put my keyboard on my lap and back away from my desk at.
I love this Upper & Lower Body Cycle. I bought it for work, I sit all day long and my legs and back started hurting. I am at work from 8-5 and noticed that my knees were really bad and needed something besides walking downtown to get me moving. I started out doing 5 minutes at a time and worked my way up to 20 minutes. I love it and I don't feel awful by the end of the day anymore. I also started walking my Pomeranian in the morning because my knees weren't sore any more. I love this so much I bought another one for home while I am watching TV:) I love using it for my arms on the table too, but I need to figure out a way that it doesn't slide on my, you can feel the burn though in the back of my arms!!
I bought this because I get terrible leg edema sitting for 8 hours at work. This product helped me immensely. I pedaled all day and had no swelling. It pretty much has zero tension, so your not going to lose major weight on it, but it did what I needed it to do. Worth every cent.
This item is good to keep circulation in lags as the days goes on for people who sit all day.
I was looking to supplement my workout while visiting family and dealing with inclement weather. It was foldable, portable, and small enough not to be a hassle. It is a bit awkward and not what I would use long-term, but it worked well for me on the road. I will be taking it with me over the winter holidays.
I purchased this for help with my cardio exercise. It is great and I recommend it to all heart patients.
There is no tension even at the highest level. Supposed to be non-slip feet on device, which don't work. Only can be used on regular carpeting otherwise slides as soon as you start to pedal.
Gold's Gym Upper & Lower Body Cycle: Electronic meter with workout timerPedal straps hold feet in placeEasy assembly, no tools requiredCompact, quiet designNon-slip feetDurable steel frameFold for...
It is easy to assemble, requiring no tools. Furthermore, it features quiet operation and has non-slip feet that hold firmly in place while you exercise. The Gold's Gym Upper and Lower Body Cycle runs ...