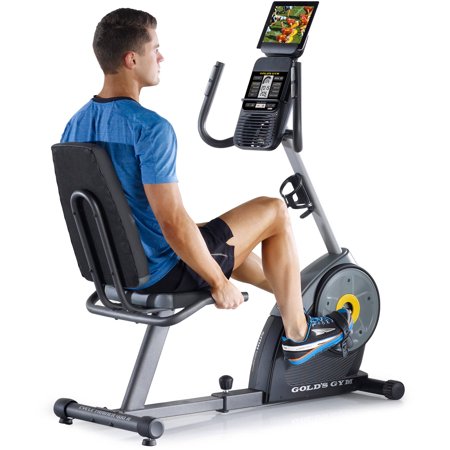 The new Gold's Gym Cycle Trainer 400 Ri Exercise Bike has all the favorite features of the Cycle Trainer 390 but now includes an integrated tablet holder and iFit Bluetooth Smart technology. Take an easier path to fitness by bringing your entertainment to your exercise. The Cycle Trainer 400 Ri features an integrated tablet holder that seats your device safely above the console so that you can your favorite media while you work out. With iFit Bluetooth Smart enabling, you can connect your Bluetooth device to this bike to maximize your exercise with fitness programs, stats, and more. Or choose from 16 preprogrammed workout apps that control the bike's resistance, or kick off your fitness routine with a built-in, eight-week workout program designed by a certified personal trainer.
Gold's Gym Cycle Trainer 400 Ri Exercise Bike with iFit Bluetooth Smart Technology:
iFit Bluetooth Smart enabled
Oversized, adjustable cushion seat
StepThru design
Integrated tablet/smartphone holder
Ergonomic pedals with adjustable straps
Silver-tinted LCD
Watts meter display
Apple iPod-compatible sound system
CoolAire workout fan
16 preset workouts
16 digital resistance levels
SMR Silent Magnetic Resistance
Dual-grip PowerPulse heart rate monitor
Inertia-enhanced flywheel
Water bottle holder
Front-mounted transport wheels
275 lb user weight capacity
5-year frame warranty
90-day parts and labor warranty
Model# GGEX61715
reviews
It is a well built bike. It does not come with a charger and there is no way to hide the wire after bike has been assembled.
I couldn't help but notice some of the reviews. Some said difficult to assemble, noisy. I found none of this to be true. Assembly was quick and easy, My 12 year old did much of the work. Instructions were accurate and easy. Very quiet and gives me the workout I've been needing for a long time. I got plenty of bang for my buck and I'm very happy.
I would give this 5 stars if it weren't so difficult to put the batteries in. The handle bars are right in the way of the screws to get to the batteries. I would definitely rethink the placement of the batteries if I were the manufacturer of this equipment.
This exercise bicycle is lightweight but sturdy, and easy to assemble. The pedals are easy to use and I like that the resistance can be increased. This has more bells and whistles than I expected. My daughter can listen to her IPOd, I can listen to my MP3 player, watch TV, or read my books while exercising. exercising is fun now!
Very heavy for me to assemble. took two weeks to get someone to assemble it. was sent 2 bikes only needed one. Didnt know it was 2 bikes thought it was 2 parts till i opened the boxes.
I ordered this on a Monday and didn't receive it until the next Monday. My tracking number said it was scheduled for delivery for friday. I waited around allday Friday and it never showed up. So I called them and they give me the royal run around. I finally figured out they shipped it to the wrong address. I was never told that but I finally received it and it took around 2 hrs to put together. I love the exercise bike but the shipping screw up was more than I wanted to mess with.
The bike functions very well for its purpose. However, there are two secondary issues I have with it. 1. The iFit bluetooth function doesn't work with my iPad mini. 2. The heartrate monitor is off. I noticed that it seemed to be recording a low heartrate, so I put on my FitBit and it confirmed that what the bike was showing was too low.
1) It doesn't come with a power supply. You have to buy the plug for an extra $30. You don't find this out until after delivery. 2) The screw to the cover where the power supply plugs in is directly behind the front handle bars, so you have to take the handle bars apart to access it. 3) The seat padding is very thin. Both I and my daughter got blisters on our rear-ends when we used it the first time. I've since purchased a thick pillow to sit on instead, another $20. 4) To move the seat back or forward you have to get two people involved since it requires lifting the rear stand up in the air while pulling it away from the front, not a one-person job. I would buy something different given the chance.