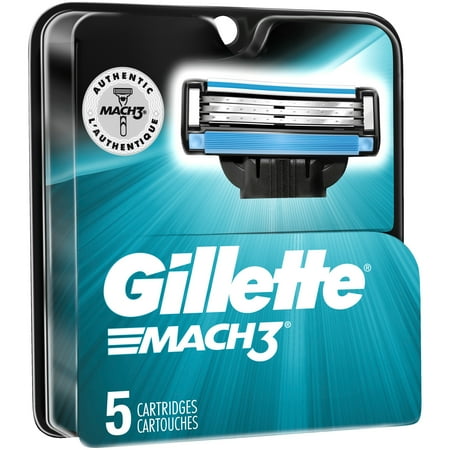 Get a smooth, close shave with the Gillette MACH3 Razor Blades Refill. The original MACH3 continues its legacy of close shaves, elevating the art of shaving. Still a trusted choice, the Mach3 continues to give men around the world a great start to their day. Gillette MACH3 blades last twice as long as a disposable, according to tests taken vs. a Gillette 2-bladed disposable razor. Fresh blades means a better shave. The Gillette razor blades, 5 count has 3Blade technology, with high-definition construction for better glide and improved comfort. The blades have five microfins, lifting and slicing through stubble for a closer shave. The Indicator Lubrication Strip fades to white to show when you are no longer getting an optimal shave from your razor blade. Once the strip fades, simply change the blades for continuous, smooth shaving. The set comes with five men's razor blades. Gillette MACH3 razors are sold separately.
reviews
The Gillette Mach 3 is a good razor blade. My husband has used these for many years for facial hair as well as shaving his head. It gives a smooth cut with no nicks. They are a bit expensive but well worth it for the quality.
The Mach 3 blade angles and low profile heads make it easy to cut in and shape my goatee or beard. Hands down the best razors.
There is an annoying squeak in the Mach3 razor. I purchased 3 new handles and 50 cartridges during the last year and have the same result. Please fix this issue.
I started using the Mach 3 when it came on the market (lonnnnnng time ago). Over the years, as there was a move toward adding more and more blades to each cartridge, I found I could no longer get a clean lower jaw line on my beard when shaving with the 'new, improved' models. So after a brief flirtation with the next-gen blades, I came back to the Mach 3. In my case, simpler is better. These stay sharp enough for me to use a blade cartridge for a good month or so. (I shave my head, neck and cheeks, and my neck hair is very tough.) My original Mach 3 handle lasted for over a decade before giving up the ghost and not holding the cartridge any more. I've had the new handle for just six months and it's already starting to lose its ability to keep the cartridge attached. That said, I stay with this because of the blades. I can always buy a new handle; they're not expensive. P.S. I tried the cheaper Wal-Mart Equate equivalent cartridges which were supposed to be "as good or better" than the Gillette blades. Yeah, right—they absolutely SUCKED. Blades stayed sharp for a maybe week, and I could never get the lower jaw line on my beard right; couldn't 'dig the blade in' to get a clean cut line. The blades on the Equates are arranged differently than the Gillette heads are. I should have taken them back for a refund but didn't. You get what you pay for. Stick with the Gillette blades! Please, Gillette: keep making these!
What can you say? About time the price came down, Harry's must be killing them. The house brand does not measure up.
I buy a 20 pack but it always comes with a new razor and I don't need tons of rozors nor do I want to pay for them ever time.
They are some good razors.i would recommend any guy to use them. They cut nice and smooth. They are expensive razors but they are worth the price. I love buying them for my husband.
I have been using these blades for sometime but I feel that quality is going down every other time. I am planning to switch to some other blade.