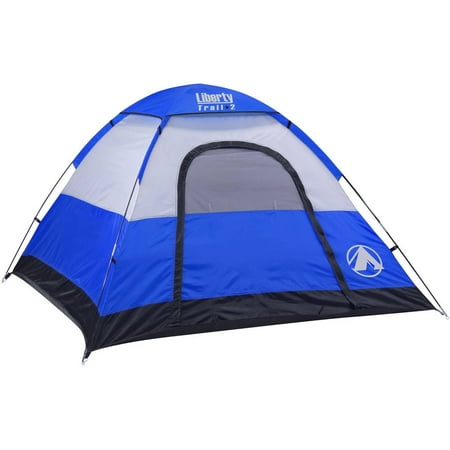 Enjoy the great outdoors in the GigaTent Liberty Trail 2 7′ x 7′ Waterproof Dome Tent that sleeps 3 people. Stay comfortable and protected from the elements in this roomy space. The polyester tent is made with a polyethylene waterproof floor and comes together with two strong and durable fiberglass poles. The mosquito mesh roof ensures you have a bug free night's sleep. You will be protected from the rain and sun with the waterproof and UV resistant material. This stylish tent is one room with one window and one door and is 51″ high in the center. It comes in two different colors. There are two interior storage pockets so you'll have plenty of room to store all of your family's belongings. The trendy dome shape will make it stand out among the other campers. The GigaTent Liberty Trail 2 7′ x 7′ Waterproof Dome Tent sleeps 3 comfortably so bring your little one on their first camping adventure. It is easy to set up so you can spend your time hiking and cooking over a campfire instead of struggling with pitching a tent.
Liberty Trail 3 Person Dome Tent:
Ultra-violet resistant materials
Waterproof tent sleeps 3
Two 8mm shock-corded fiberglass poles provide strength and durability
Polyethylene floor and polyester walls
Polyester tent with mosquito mesh roof
Polyester fly material
PE waterproof floor
Dome design
1 room
1 door
1 window
2 interior storage pockets
Easy setup
GigaTent dome tent packs up to a compact 24″ x 5″ x 5″
7′ x 7′ size
51″ interior height at center of tent
5 lbs
Available in blue and red
reviews
Im in it right now in the rain, writing this review on this tent. Love it bigger then I thought. And im dry!
We originally started using this tent when we first started camping, it is so great as a starter! All of our friends use this tent as well, it is very roomy and great for a back yard trip! Also easy to put together.
Very nice tent for the money! Thanks to Walmart for providing a product that is as good or better than expected for the cost.
It was super easy to set up. It could fit 2 adults (a large male and a small female) and two small children easily. It has stood up to a cat, a dog, and a 3 year old and still looks new. I do not know how it is in rain; I have not been brave enough to do that. It has become a semi-permanent fixture in the living room and is small enough to be confident, but large enough to be useful. Also, it is very light weight.
I buy this for my kids they are 6 and 8 years old and the love it , the tent is easy to put and taking down ,for me the price and the quality are really good Im happy with my purchase
The tent works great and was easy to set up and take down. Rolled up easily and fit in the provided carry bag.
I had never been camping before and this tent was great for a first timer. Easy set up and great amount of room to sleep and keep our items.
I bought this tent to use for our Fourth of July cookout. It is really easy to set up and take down. It is big enough to fit 3 people. Only downside is you can't take this in the rain due to the fact that it has tiny pin like holes across the seams so water would seep in. This is an awesom tent for the price! It has a small pouch inside on the back of the tent for keys or something small like a wallet. There is a wondow on the door and on the top of the tent for air circulation
We purchased this tent for camping but we faced rain three days in a row. This tent basically ruined our vacation as the material leaks water through the zips and the door. We ended up having to book a hotel because the tent got completely soaked, which prevented us from sleeping.
GigaTent Liberty Trail 2 7' x 7' Dome Tent, Sleeps 3:UV-resistant materialsSleeps 3Polyethylene floor and polyester wallsTwo 8mm shock-corded fiberglass poles provide strength and durabilityDome desig...