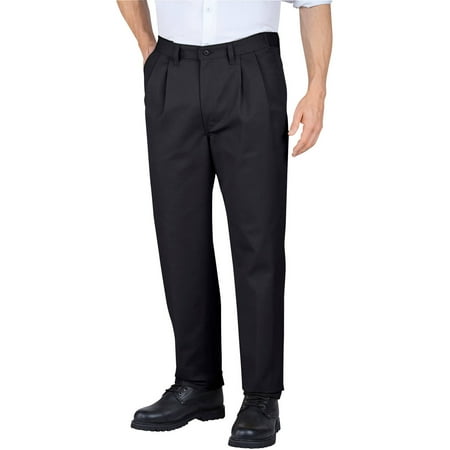 Enjoy classic style and comfort with these Genuine Dickies Men's Pleated Comfort-Waist Work Pants. They have hidden expandable tabs in the waistband, so they won't pinch or bind whether you're having an active day or just enjoying a big lunch. It's an updated style of the tried-and-true design, adding pleats and a handy cell phone pocket. These pants are made from a durable heavy twill fabric to ensure that they can stand up to the most rigorous conditions. They also include a stain-release finish to promote long-lasting use and are machine washable for convenient maintenance. As an additional bonus, these permanent crease pants never have to be ironed.
Genuine Dickies Men's Pleated Comfort-Waist Work Pants:
65% polyester/ 35% cotton
Men's pleated work pants
Permanent crease, never needs ironing
Single-button closure with zipper fly
Two front pockets, two back pockets, one cell phone pocket on the leg
Logo above the back pocket
Waist features hidden expandable tabs for comfort
Durable heavy twill fabric
Belt loops pants with stain-release finish
Machine wash cold
Sizes: 32×30, 32×32, 34×30, 34×32, 34×34 and 36×30
Colors: black, khaki and navy
reviews
good pants – please stock in your stores
good quality, expandable waistband for when you need a little flexibility
Awesome. A bit stiff at first. I have purchased several.pair over the last few years and I always wash them at least 4 to 5 times before I feel comfortable in them. They are lightweight but very durable. Definately would recommend to anyone who needs a little more in the waist but not enough to go a size up. Wish thwy vame in grey though.
If you have a wallet in your back pocket… these pants won't wear out for a long time. Not sure what people put in the weird pocket on the thigh but it lays flat and can't be seen or felt.
Comfort waist allows room for long johns in cold weather. Sturdy and durable. If you have to wear pants to work, these are perfect!
So comfortable!! Wear them everyday for work. Work outside all day in the forestry dept and the pants hold up for a long time!!
I purchased two pairs of these pants for my husband. 38×32. Both pairs broke on my husband. One pair broke the first week. The second pair broke about 2 months later. Very disappointed. Don't waste your money. YES, they are comfortable, NO they don't last at all. Dickie's- please reinforce your stretch sides better.