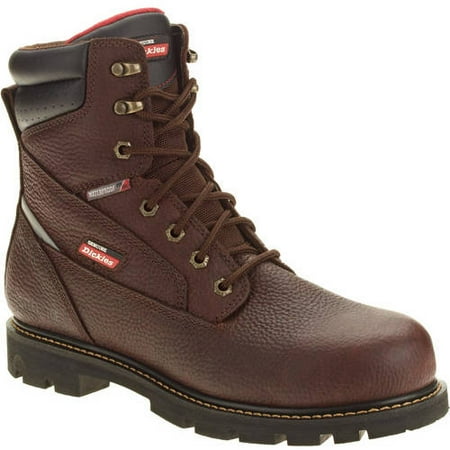 Heavy duty work will never be the same with this Genuine Dickies JobRated Brawn Waterproof Work Boot. It is fully lined and padded, and has a steel toe for added protection. A pair like this will protect your foot no matter what the weather says or what the job requires.
Genuine Dickies Men's JobRated Brawn Waterproof Work Boot:
Full grain waterproof leather upper
Steel Toe
Smart-step dual density removable comfort insole
Dri-Tec waterproof membrane construction
Odor-Shield lining technology
Oil and slip resistant rubber outsole with lightweight eva midsole
Machine wash cold
reviews
So to be up front I have never a worn work boot before in my life. However I work in IT and am constantly walking around, sometimes a few miles a day. After buying shoe after shoe after shoe, 12 pairs of shoes within in 3 years, I decided to look into work boots as a more durable means of shoeing my feet. I hopped online and did some extensive research from construction methods, to materials, to everyone else's opinion. When my research was done, I bought several brands of boots from Red Wings, to Georgia Boot, to Irish Setters to Walmart Dickies for testing. Boy am I impressed with these Genuine Dickies Brawn! They are very comfortable and much cheaper in comparison to other brands. They have a short break in period, if there was one, and their insoles are easy on my feet. Basic construction of this boot rivals some of the other brands I purchased and in some instances appears to be of higher quality! They appear to have a Goodyear Welt and because of this a local cobbler thinks they can be re-soled. He won't know for sure until he takes them apart. These boots appear to be made with Genuine Leather and not Full Grain leather, which isn't the best leather to use for boot construction. Not sure how well they will hold up, but with a proper care regime I think they will do just fine. I have been able to walk in them for most of a day and not have any discomfort. Also when I tie them they stay tied and do not loosen or come untied. Frankly I am impressed with them as they are a Walmart boot. Depending on how well they endure my abuse….I just might buy more in the future
Great!! Way better than all the rest! Especially Danner boots.
I'm a mechanic that's on his fourth pair, they withstand crawling on a concrete floor setting the lift, all automotive fluids and they are slip resistant. I like the welt soul and the tread on them. They are very comfortable for a steel toe boot along with good ankle support. I have had the back inside cloth liner to rip on a pair before but I had the laces too tight trying to put my foot in with a heavy pair of socks on..I have seen where Wal-Mart might stop carrying them in stores that's OK as long as I can still get them online…I'm hard to please when it comes to boots and one that has a good price and quality is hard to find for me.
I had these boots for over a year and a half and they have been great. They are a little heavy but I don't mind bc they're such a great boot and you get use to the weight fast it's not that big of a deal. They're very comfortable, durable, they stand up to any work conditions, and I never had a problem with the steal toe digging into my foot or anything else. I would recommend this boot for anyone who is working in construction that needs a sturdy boot that is affordable and is going to protect your foot in any condition.
Nothing is built to last, but I got my money's worth. I throw trash and these boots took on over six months of extreme beating through all types of weather. It has perfect ankle support and I say they are 80% waterproof. I like the string holes which is one of the main reasons why I bought them. Some boots has those thin hooks at the top that will break no matter how lose you try to tie around them. This boot should be a standard on Wal-Mart shelves. If they discontinue this boot, I hope they replace it with a similar pair that matches the construction. This is my second pair I bought. With this being said, I stand by these boots… I nominate Dickies for president! Hip hip hooraaaaaay!
This boot lasted me over 2 years constantly getting solvents, oils other chemicals . Small piece of toe tread finally started to separate a little. But the abuse I've put these through was remarkable for the price. Bought a second pair. Getting a third this weekend just for fun.
Needed a good pair of boots that would keep my feet dry. I do work in a warehouse and use water hose through out the day. Tried these on in the store felt good on my feet so bought them. After one week my feet were getting wet. They are a comfortable boot but I was really looking for water proof and these boots say they are but really they are not.