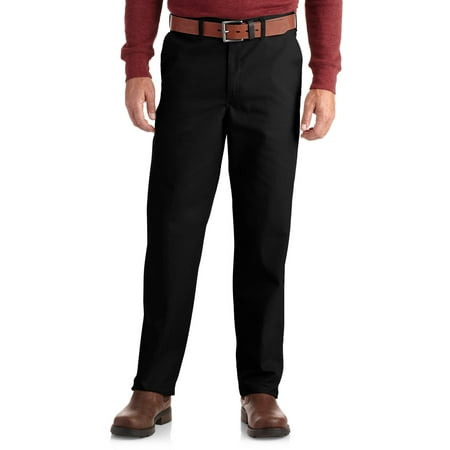 Feel as good as you look wearing these Genuine Dickies Men's Flat-Front Comfort Waist Pants. They are made of soft and durable, wrinkle-resistant cotton, allowing you to put them on straight out of the dryer. These pants are also abrasion-resistant to keep you looking your best. They have a classic style and a comfort waistband. These cotton pants feature standard belt loops giving you the option of wearing a tucked shirt. The zipper fly with a button closure enables you to achieve a tailored fit. There are also have multiple pockets located in the front, back and on the thigh, giving you plenty of room to carry personal items like a cell phone, wallet, keys, glasses and more. These wrinkle-free pants are suitable for work and play.
Dickies Men's Flat-Front Comfort Waist Pants:
100% cotton
Resists wrinkles and abrasions
2 front pockets
2 back pockets
Back thigh pocket
Standard belt loops
Flat front
Single-button closure with zipper fly
Machine wash cold
Belt loops
Wrinkle-free pants available in black, dark navy or khaki
Comes in sizes 30″ x 30″, 30″ x 32″, 32″ x 30″, 32″ x 32″, 33″ x 32, 34″ x 30″, 34″ x 32″ or 34″ x 34″, 36″ x 30″, 36″ x 32″, 36″ x 34″, 38″ x 30″, 38″ x 32″, 38″ x 34″, 40″ x 30″, 40″ x 32″, 42″ x 30″ and 42″ x 32″
reviews
Even with the tax and shipping, these pants were cheaper than the store. My husband wears them to work. If you aren't used to Dickies, they aren't very flexible until they get worn in, they are made to last. The comfort band helps them fit more comfortably.
This product is of very high quality. It is hard to find in store in the size that was needed therefore being able to find it online was awesome.
Dickies Flat front comfort waist pants are great! My husband wears them on the job all the time and wore out his other pairs. He loves them. The fit is true to size and the comfort waist feature is wonderful when you need a little bit of stretch in the waist. These seem to be made of a better quality fabric then his last couple pairs. They should hold up well in the wash.
The only problem I had was with choosing the color. It was hard to navigate entering one color each time in order not to duplicate the same order.
These are good, inexpensive slacks that I buy for my uncle.
The size was true to size, the color was what was stated on website the price was a great price. They came highly recommended.
Great price, fast delivery, and excellent fit. Order the size you usually wear and they will fit perfectly. They felt a little stiff when I tried them on but after a good wash, they were totally comfortable.
Gee – I'm so sorry, I must have missed the description part saying the pants are made in Honduras. And then it might have added that the measuring tape used there is obviously different from ours because the pants were a good 2 inches longer than what is stated to be the length. Surely that can't be the amount of shrinkage one should expect after washing. And that the pants are extremely stiff feeling? Should one expect them to be soft after washing? I'm not taking a chance on all the expectations that may or may not come after washing. Returned and went elsewhere for a better product.