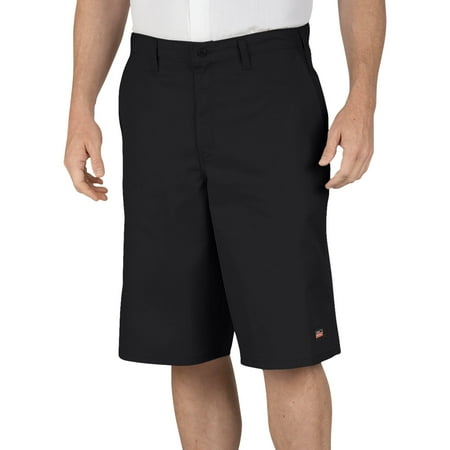 Update your wardrobe with these Genuine Dickies Men's 13′ Loose-Fit Flat-Front Shorts. Whether you're relaxing at home or going about your busy day in town, they will keep you comfortable and cool. These loose-fit shorts are crafted using a premium cotton and polyester blend that's stain-resistant, wrinkle-resistant and allows for plenty of stretch, so you can still wear them even if your weight fluctuates slightly. The deep and sturdy pockets provide plenty of storage space for your wallet, cell phone and other accessories so you always have room for what you need on your person.
Genuine Dickies Men's 13" Loose Fit Flat Front Short:
65% polyester 35% cotton
Men's 13″ work shorts
Double-needle waistband
Ideal for every-day casual wear
Heavy-duty zipper for added durability
Sturdy deep pockets for all of your accessories
Stain-release, wrinkle-resistant fabric
Men's short with cell phone pocket
Machine wash cold for best care
reviews
I have owned several of these over the years. The color matches my uniform. They are durable and last a long time. I have tried the other types like the twill and rip stop. They don't hold up as well for the work I do. These are stain resistant with a 13″inseam. You can also get a 15″inseam as well. They also have a pocket that is great for holding your cell phone. Ordering online is easy. Plus you can find the size and color you want.
I ordered these shorts for my 6'3″ step son. He normally wears size 36 so I went a size larger and they were smaller than his size 36. I have to return all 4 pair but he was going to use them on his trip to Florida. Now we have to rsuh around to find him some shorts.
Good for work pants because of the pockets being large and on the side.
When you're working in the kitchen he gets really hot in these pants help you get rid of some of that heat
My is a tall big boy. These shorts fit him well and the perfect length. Usually we buy him pants for school because most shorts are too short for him. He loves the length and so do we.
Have always loved this brand. However I always have to order online because the stores do not carry the size I need. But I am never disappointed with Dickies.
The shorts were labeled the correct size but there is absolutely no way they were sized correctly. I have other shorts in the same size that I currently wear and these weren't even close. Very disappointing because I can't find them in stores right now to actually try on before I buy them.