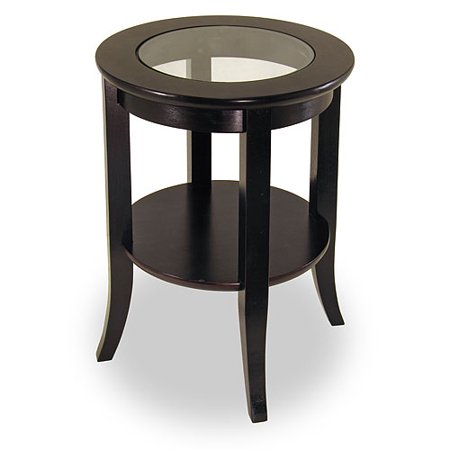 Adorn your space with a functional and eye-catching Genoa Round End Table with Glass Top. In addition to an end table for your sofa, recliner or loveseat, it's ideal as a miniature coffee table or display piece. The dark espresso round table looks great against light colors. For larger sofas and rooms, try adding one glass table on each side. The sleek, modern design of the Genoa end table blends in with your existing decor or gives a traditionally styled room an instant makeover. The round end table features a clear glass top with a long and thick espresso outline. This durable top does is not easily stained by permanent beverage rings, so it will keep its good looks for years to come with minimal cleaning. This espresso round end table also features a shelf underneath the top that's ideal for books, magazines, newspapers and other items. The slightly flared legs add a final decorative touch and also make the table even more stable.
The Genoa Round End Table with Glass Top is surprisingly lightweight and assembles in only minutes, and you can coordinate it with other espresso furniture, like a sofa table or coffee table, that is available separately. Complete your space with this glass end table.
Genoa Round End Table with Glass Top:
Round end table with clear glass center
Made of wood in rich, dark espresso finish
Espresso round end table features 4 legs with curving feet
Bottom shelf is great for storage
Dimensions: 18.5W x 18.5D x 22.75H inches
Reviews
it was a little darker than I thought, but it looks great. Bought 5 of these for our office.
The screw clamps that secure the legs to the bottom shelf are fragile. Three broke during assembly and I needed to go to Homedepot to purchase more durable ones. The price was nominal for the screw clamps, just not one would expect to do. Once assembled they do look nice.
It's absolutely gorgeous and looks Fanta in my family room. It's sturdy and it doesn't look cheap at all. It's a lovely piece of furniture.
Nice looking table. Easy to assemble. Little over priced for size. I would purchase a second if price was a little lower.
This item is great. It is exactly as it appears. Because it is round it can fit anywhere .
I am very pleased with the end tables, they arrived on time and was very easy to assemble. The only downside is the coffee table did not arrive with them and yet to arrive a week later.
Bought these for my living room. They have a nice modern look and very inexpensive
This was the ideal table for my purpose. I am very happy with this item and was surprised at the construction and carftmanship
I was lookin for this size table at many furniture stores. None to be found that size. I happened to go online and saw this table and it was the perfect size. I had no expectations but when it came and we put it together we were so impressed we bought two.!!!
The Hex Wrench that came with the table for assembly was not a good enough tool. It was too difficult to twist after awhile, but the legs were still loose. I ended up taking it back. Also, they were a lot smaller than what I expected. I wouldn't recommend these tables to anyone!