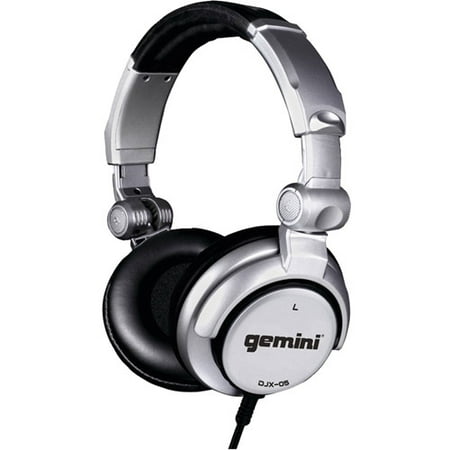 The Gemini Professional DJ Headphones bring hi-fi sound to your ears with dynamically enhanced audio in a lightweight and comfortable design. It features an adjustable padded headband. The soft-cushioned ear cup design helps form around your head for optimal comfort. The Gemini DJX-05 headphones have a reversible 90-degree horizontal as well as 180-degree vertical rotating joints that make it easier to move them around. This is a durable, flexible and lightweight accessory with a folding body. You will hear clear highs that stay pleasant even at maximum volume along with crisp middles that deliver big sound and definition. Also, the deep bass gives them the thumping feel of subwoofer in a mini driver. The lightweight headphones are designed to go over the ear, which helps keep the noise that is around you to a minimum. They feature a gold plated 0.125″ connector with 0.14″ screw-on adapter and have a 200mW maximum power handling. It also offers a large 50mm high-output driver. The Gemini Professional DJ Headphones are an ideal selection for music lovers, movie enthusiasts or most things that you need them for.
Gemini DJX-05 Professional DJ Headphones (Over Ear):
Adjustable padded headband and comfortable, soft-cushion earcups
Reversible 90-degree horizontal/180-degree vertical rotating joints
Durable lightweight flexible folding body
Removable, 13′, coiled spring cable
Gold-plated 0.125″ connector with 0.14″ screw-on adapter
200mW maximum power handling
Large 50mm high-output drivers
Frequency Response: 20Hz – 20KHz
Impedance: 32 ohms at 1KHz
Sensitivity: 102 dB at 1KHz, 1V AC
Rated Input Power: 1mW
Over-ear Gemini DJX-05 headphones
reviews
Great sound, reasonably priced, thoroughly enjoying mine.
better than expected
A good product for the people that want more quality sound, than regular headphones, this ones are perfect for the price, the sound and the quality of the plastics used on this product.
They sit very comfortably on the ears. The sound quality is decent – not amazing, but you get what you pay for. Overall, great product for the price.