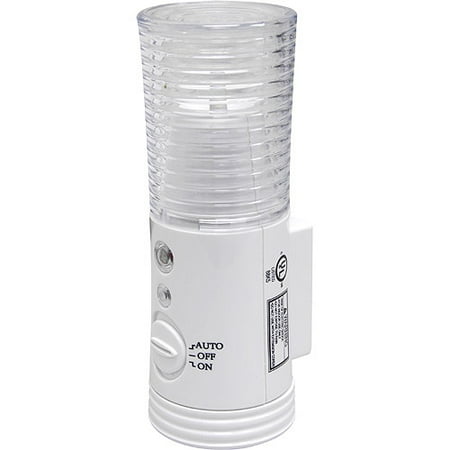 Light up your path with a GE LED Power-Failure Nightlight/Flashlight. It provides both a soft, consistent nightlight glow and a darkness-piercing beam of light. The LED nightlight is cool to the touch and functions in three different modes. The versatile design can be converted into a flashlight when unplugged or during power outages, for added convenience. GE LED Power-Failure Nightlight/Flashlight:
On/off/automatic functions
Long-life LED bulb
Converts to flashlight when unplugged or during power outages
Retractable plug
Battery operated nightlight is cool to the touch
Indoor use only
reviews
I got 2 to try and after the first power outage, one was already dead! I like the concept, but not the design that blocks both outlets, and will not buy more. Supposedly you can mail defective units to the manufacturer and they will replace it, but I won't count on that: Jasco Products Company 10 E. Memorial Road Oklahoma City, OK 73114
I only wish it would be quicker to shut off when ceiling lite goes on. Only bright light seems to shut it off, but that's ok.
Great for emergency. I bought two of them, one for everyday use and one for emergency use. Unfortunatly the length of time it works on a battery system is less than 6 hours so buy two just in case. WE live in Huracane zone. Need them.
The light charged up quickly and seems to work as advertised. Came on during a short power failure. I haven't really tested it to see how long it holds a charge if unplugged or in use. I got this to leave always plugged in as a night light, but more importantly as a power failure light in the bathroom. I was disappointed to see that it blocks both outlets, so if you need to use a shaver, hair dryer or anything else you have to unplug this light and if you turn it off, remember to turn it back to "auto" when you plug it back in – otherwise it wouldn't serve the purpose in a power failure. Also, in the flashlight mode it isn't very bright. Better than nothing
This is a great everyday night light, but when the power goes out, it shines brightly, so there is no need to walk around in the dark to get candles or a flashlight. Then, you can pull this out of the wall and use as a flashlight for whatever your needs are.
the light work fine but is too long and take up both outlets space. when I put the light in, I can't use the other outlets at all. I have one nightlight which the plug in can turn horizontal but forget where I got them. I bought two but planning to return one later this week.