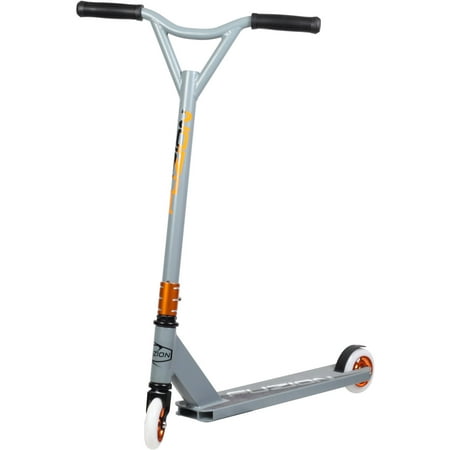 Fuzion introduces the Fuzion PRO X 5 Stunt Scooter, the next level to their beginner PRO scooter line up. It offers young ones a fun and active way to ride around the park or the neighborhood and practice their skills. The Pro X-5 kids scooter picks up where the Pro X-3 leaves off and adds three distinct upgrades. It comes equipped with a stacked triple clamp, four-spoke metal core wheels and a flex fender brake for safe, controlled stops. These upgrades, paired with the existing aluminum boxed shaped deck make for a reliable scooter designed for exciting performance. The scooter also features high-strength V-shaped handlebars with comfort rubber grips for a firm, secure hold and improved control. Squared deck edges allow for better hand grabs when riders do stunts and full deck grip tape gives them firm footing while they ride. The wheels run smoothly on high-speed bearings.
Fuzion PRO X-5 Stunt Scooter, Grey:
20″ x 4″ aluminum box-shaped deck
Strong V-shaped handlebars
Full deck grip tape
Helps to promote outdoor activities
High-speed ABEC 7 bearings
Fuzion scooter has a heavy-duty steel fork
Squared deck edges for superior hand grabs
Soft pro silicone hand grips
100mm 4-spoke metal core PU wheels
Stacked triple clamp
Fuzion flex fender brake
Kids' scooter comes in black, blue or gray
reviews
Pros: Sturdy by all measurements. Impressed with the aluminum wheels. Schnazy looking in gold. Nonslip grip tape makes it easy to stay on the scooter. Easy to install the handlebars, 2 large hex wrenches included. Smooth & silent wheel bearings. You can't hear Oz when my child is zipping around the house. My child loves it. Cons: Too big to carry on a flight for vacation. 110 pound weight limit. Low handle bars – for stunts, not cruising. This is the 2nd Fuzion my child has. The other one is the much larger wheeled city cruiser with yellow plastic wheels. That one still works well after a few years of frequent use. It's just not a good stunt scooter.
My son got this scooter to do tricks & stunts. Light weight but decent quality. He loves the light color with the shiny orange wheels & accents. Still feel it was a bit over priced but he worked hard to earn the money to pay for it.
This scooter was purchased for my 9 year old son. He loves it, and his 14 year old sister loves it too. They've used it at the skatepark & so far, it's held up very nicely. For this price, I would say that this is a very solid entry level trick scooter.
I purchased for my grandchildren and the have a blast on them. They ride very smooth and they are sturdy.They love coming to Grandma's house to play. So glad I bought them
I had a lot of options when looking for a scooter. I knew which ones I didn't want. I wanted one that I knew would be sturdy and last. So I decided on this scooter because it will last a while. It is a very well made scooter and very sturdy. I purchased it for my son for his birthday and he loves it and the colors. It was very easy to assemble and came with direction if needed. I recommend this scooter to anyone who is looking for a scooter for young children who are learning to ride.
I went to a skate shop before I bought it they said fuzion is a bad brand and that the scooter breaks fast I don't recommend this product
Fuzion PRO X-3 Stunt Scooter:20? X 4? T-6 Aluminum Box Deck18? High Tensile Steel Batwing BarsSoft PRO Hand Grips100 Mm Cast PU and ABS Wheel CoresBearings: ABEC 9Triple Bolt ClampSteel Flex BrakeAges...
Fuzion PRO X-5 Stunt Scooter, Grey:20" x 4" aluminum box-shaped deckStrong V-shaped handlebarsFull deck grip tapeHelps to promote outdoor activitiesHigh-speed ABEC 7 bearingsFuzion scooter has a heavy...