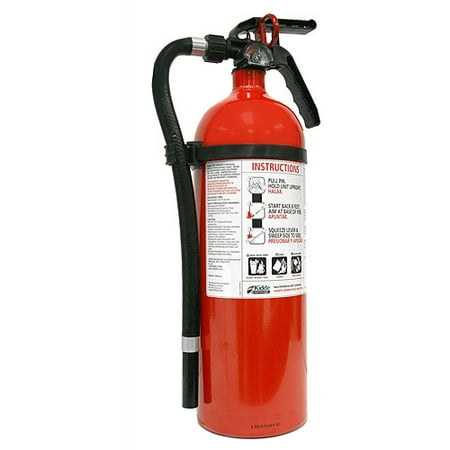 This Full-Home Fire Extinguisher has a pressure gauge that allows for an immediate status check. It also features an easy-to-pull safety pin and a rust- and impact-resistant nylon handle. This 4-lb fire extinguisher includes a UL-approved wall hanger for a simple installation. The cylinder is powder coated for enhanced corrosion resistance.
Full Home Fire Extinguisher:
Pressure gauge allows for immediate pressure status check
Easy-to-pull safety pin
Rust- and impact-resistant nylon handle
Four lbs of fire-extinguishing agent (Average)
UL-approved wall hanger
Powder-coated cylinder for corrosion protection
Emergency fire extinguisher includes 6-year limited warranty
Model# 21008635N
reviews
Though I haven't used it yet it's comforting to know if I need it I have it. It's a good size, not too heavy and compact enough to keep in my pantry in the kitchen for emergencies.
This will work well for our needs. Hope we never have to use it.
Big, solid and lots of left over in the tank. Exactly what you need in your home. Get a smaller one for your car. The day you need it you will be thankful. Wished it came with a simple mounting bracket though.
I just purchased 2 of these. The classification listed on the exstiguisher is 2A 10BC.

This Fire Extinguisher was the one recommended for the kitchen. The one major drwback is that it toooo heavy for my wife to hold, let alone remove from wall, pull pin, aim at base of fire, and pull trigger. I have it in my shop, and I put the lighter extinguisher in the kitchen in hopes that my wife can handle it. Fortunately we have not used it yet.

When I opened the box upon delivery, the powder retardant was all in the box and inside the extinguisher box. Returned product to store. Don't trust it will work as it is a "one time" use extinguisher.