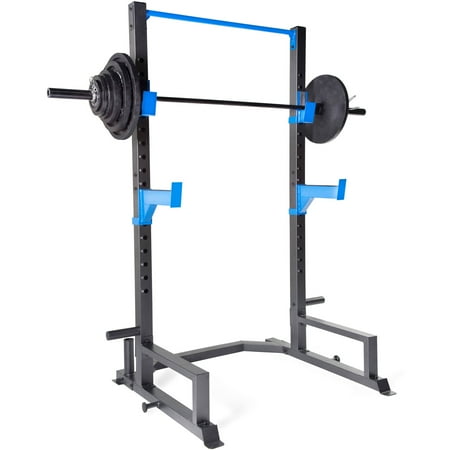 The Fuel Pureformance Deluxe Power Cage and 300-pound Weight Set is essential to those who are serious about their strength training goals. Power Cages are ideal for targeting weak links in your strength routine. Fuel's Pureformance Deluxe Power Cage has all the safety and training features to blow those weaknesses out of the water and the 300-pound weight set comes with it, to get you started. With steel construction, oversized tubing, a powder coating to prevent scratches and rust, safety catches, and floor attachments, this power rack is built to withstand the most intense workouts. Focus on a wide range of strength goals with features such as resistance attachments, customizable hook and safety catch placement, pull-up bar, and plate and bar storage.
Fuel Pureformance Power Rack with 300 lb Weight Set :
Steel construction
Oversized tubing and powder-coated finish
Olympic plate and bar storage
Safety features such as safety catches and floor attachments
500 lb weight capacity
Weights made of solid cast iron
Weight set contains 2 x 45 lb, 2 x 35 lb, 2 x 25 lb, 2 x 10 lb, 4 x 5 lb, 2 x 2.5 lb plates, 2 x Chromed Spring Clip Collars, and 1 x CAP 2″ Solid Black Oxide 84″ Bar
reviews
Good set up for the money the packing of the nuts and blots stink so you might have to run out and get a few that fell out during shipping but we'll worth the 381.00
Equipment arrived in excellent condition. Easy to assemble and no hardware was missing. Perfect for novice lifter or someone just looking to get back in shape. Advanced lifters or powerlifters probably should not purchase and look for a heavier gauge rack.
The weight set is great! 45 pound Olympic bar with 45,35,25,10,5&2.5's. All of them are solid and don't feel cheap! The squat rack is good my main concern are the screws that hold the bottom set with the top aren't bolted in. They are very small and just screw in. The shipping was weird. They shipped it in 6 different packages and only supplied me with one tracking number?!?! The first box arrived and was torn to pieces, sucks but it was just the smaller weights 10,5&2.5's, nothing was missing. Then within the next couple days the others roll in 25 in one package, 35 in another & 45 in one more package. The last thing that came in was the squat rack. This box was messed up, you could tell someone was not happy shipping this thing. It had puncture marks and holes all over. When I went to pick it up I could hear all the screws and bolts sliding around, I was not happy about that, as this means something is most likely missing, especially with all the holes in the box. I took everything out and found the small package that should be holding all the screws and bolt completely destroyed within the box. All of the screws, bolts&washers were spread amongst the box. Putting the rack together was quick, faster if you have two people. Also it would have been much faster if you had all the screws and bolts. I could have called Walmart, but honestly how long would that process have taken.. it was faster for me to drive to Home Depot and buy the handful of missing screws/bolts/washers. One last thing.. the instructions aren't the greatest, but if you ever put something together from ikea, then you should be fine.
The weights and bar are decent quality for what you pay. If you have nothing and just want weights to work out with, then you can't go wrong for the price. The rack looks good, but is very flimsy. It says it will support 500lbs, but I do t think that I would trust it. I might eventually replace the rack, but if it just has some movement and still holds the weights, then I probably will not. For $350 I would purchase it again in order to have my own weights at home even if the quality is not premium.