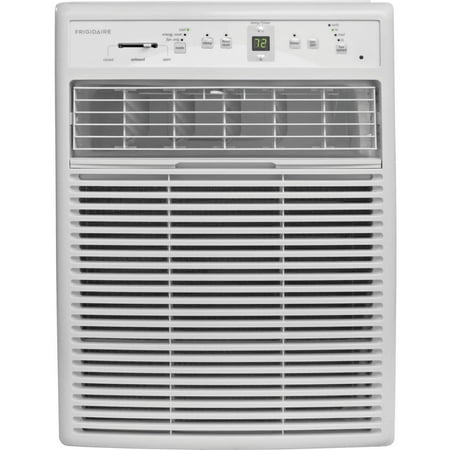 Frigidaire's 8,000 BTU 115V slider/casement room air conditioner is the perfect solution for cooling a room up to 350 square feet. This unit is specifically designed for use with sliding horizontal windows or casement windows and is not suitable for standard (double-hung) window installation. Ready-select electronic controls allow you to easily select options with the touch of a button. The full-function remote control allows you to precisely control the temperature and fan speed from across the room.
Frigidaire FFRS0822S1 8,000 BTU 115V Slider/Casement Room Air Conditioner with Full-Function Remote Control:
10.8 Energy Efficiency Ratio (EER)
Specially designed for casement-window or sliding-window installation (Not suitable for standard-window installation)
8,000 BTU air conditioner uses standard 115V electrical outlet
Cools a room up to 350 sq.' with dehumidification up to 3 pints per hour
Ready-select electronic controls allow you to easily select options with the touch of a button
Full-function remote control allows you to precisely control the temperature and fan speed from across the room
Low power start-up and operation conserves energy and saves you money
Quiet operation keeps you cool without keeping you awake (48.4 dB on low)
Effortless temperature control maintains preset room temperature so you will remain at your comfort level
Effortless restart resumes operating at its previous settings when power is restored to your unit
4-way air direction control allows you to direct the air where you want it
3 cooling speeds/3 fan speeds and 24-hour on/off timer
Auto cool mode allows the fan to adjust speeds as the room temperature changes
Energy saver mode conserves energy and saves you money
Sleep mode gradually increases room temperature after being activated
Washable mesh filter with side, slide-out access cleans the air removing harmful bacteria
Extra long 6.5′ 3-prong power cord makes extension cords unnecessary
Safety: UL/CUL listed; AHAM certified
Easy to use installation kit included
Minimum window height: 21.5″; Minimum window width: 15.5″
reviews
I bought this last August when we were having some really hot weather. I have never own an air conditioner like this one before. These are the type of air conditioners to have when you have slider windows.
Will give it four stars. Would give it five but the remote is line-of-sight control so it doesn't work where I normally will be using it.
Does a great job in a very hot room. I just wish I could change the interior vents in a different way.
this is our second one first one is still going strong the one we purchased back in July has had issues but we are working them out with Frigidaire they are great to work with
I bought this three months ago, works well, very quiet, great design that can fit in a unusual window
Love our new air conditioner. It is quiet and cools the room immediately. Not expensive to run, our energy bill has not increased. Very happy with this quality product.
I purchased this ac for a small room some might say it was bigger than needed but i didnt want to run the risk of having a weak ac. Even though its in in a small size room 12×12 it does cool down the room rather quickly (a couple minutes) its not as loud a review i had read about a buzzing sound honestly its in a small room so if it was loud id know. Overall im happy im just hoping it goes the distance in durability… Time will tell 🙂
This is a replacement air conditioner and it seems to be quite a bit noisier than the old one. The fan is noisy and the level goes up much more when the condenser kicks on.
This is my first time buying an air conditioner. I was worried about installing it myself and I found the instructions hard to understand at first, but once I studied it a bit and got to understand it and then started the process, I soon realized that it was very easy! I was pleased with myself for being able to do it! The air conditioner works great! I love the features and remote. It works perfectly. It cools the place in no time and makes very little noise. It's quiet! Very pleased with my purchase. It has the look, feel and sound of a quality piece of equipment. The only thing I think needs improvement is the overall price of casement style window A/C's. They were difficult to find and way more expensive than the "regular" units you can find in your local stores. I don't know why, I guess it's just because they're different and fit a niche market that the prices are so darn high with them. That being said, this was one of the cheapest I've found and it was the cheapest one that I found that was actually in stock. Buy it, you'll be glad.
I needed an air conditioner to go in a kitchen casement window. This was the only one I could find that fit the dimensions of the window. I had to modify the installation procedure provided in the manual to some degree since my window was different than the two examples provided. But, it was easily modified. Very happy with the cooling and the unit is very quiet.
Purchased this unit about a month ago great job of cooling room, but emits a high pitch tone while in the cool and economy mode so loud that it's unbearable and unable to be used when room is occupied.