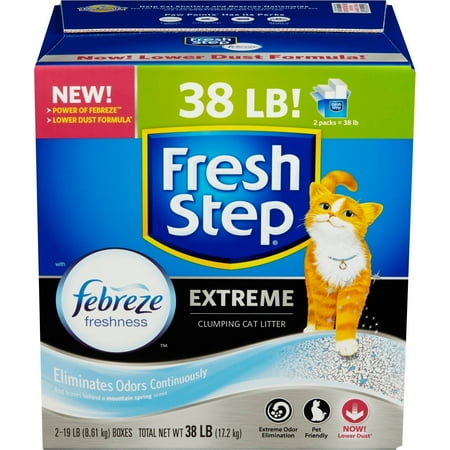 Fresh Step Extreme Scoopable cat litter handles the smelliest litter box messes with its scented formula. Featuring CarbonPLUS technology, this carton of cat litter arms you with three lines of defense — it neutralizes extreme odors from urine and feces, blocks the strongest ammonia odors, and remains effective around the clock. And every time your cat uses the litter box, paw-activated fresheners release fragrance immediately. Plus high quality clay clumps tightly to make scooping away messes fast and easy. Cats and clean-smelling homes can coexist, thanks to Fresh Step. For best results, do not mix with non-clumping cat litter. For first-time use, start with an empty, clean cat litter box. Fill it with three to four inches of Fresh Step Scoopable Cat Litter. Remove clumps and solids daily and dispose in trash; do not flush. The rest of the kitty litter stays fresh. Add more Fresh Step Scoopable Cat Litter to refresh your litter box each time you scoop.
Fresh Step Extreme Scented Scoopable Cat Litter, 38 lb Carton:
38 lb carton of Fresh Step Extreme Scented Scoopable Cat Litter
CarbonPLUS eliminates extreme odors continuously from urine and feces
Contains an antimicrobial agent that inhibits the growth of bacterial odors in the litter
Tight-clumping cat litter makes scooping away messes easy
Paw-activated fragrance released when litter box is used
Reviews
With 6 cats, Odor & clumping is crucial. Clumping is excellent, as long as not overly saturated. Odor is not as bad as Tidy Cat. Odor is greatly reduced from Arm & Hammer…go figure!
Fresh Step is the best litter available. I've tried multiple cat litters because of either curiosity or price. I honestly keep coming back to Fresh Step because it is the best clumping litter by far. I rather spend extra than having my cat litter box constantly smell up a portion of my house.
We have 3 cats and I am happy to say Fresh Step Extreme can handle it! I do wish the Febreze scent was a little stronger, but I still rate it a 5 overall!
I always use fresh steps. And I always will there is no smell and the kitty loves it to
my 3 cats seem to really like this litter – i like it too since between the 3 of them they really can go to town in the box, it's never smelly!
I have never been so unhappy with a product as I am with this. I've used Fresh Step for years and tried switching. I actually threw out the entire bag. My litter box smelled as if I didn't have any litter in the box. Super unhappy with this particular kind but will without a doubt keep buying this brand.